Five and a half years ago, the spirit of the Eurovision Song Contest arrived in New York City by Gilad Mandelboim who brought his passion into a totally new place. This Saturday, his Europhoria fan community will say goodbye as he moves back to Europe, but the memories and spirit will remain in the big apple forever.
The decision to bring the Eurovision Song Contest to New York came after the 2012 edition in Baku. "Moving to a new city is quite an adventure. You find yourself surrounded by people but often feel lonely. I wanted to bring something new which feels like home, especially in a city of immigrants", says Gilad.
Meeting a bar owner, the first Europhoria party was included in the lineup of a new bar in Hell's Kitchen, an important LGBT area in New York City. The date was set to 12 December 2012, but the big challenge was to find the audience that existed somewhere out there. Following an oiled PR campaign which included features in TimeOut, more than 200 people showed up on a wintery Monday night, singing, waving flags and discussing songs and nationalities as if it was a Saturday night in May.
The party was held on a monthly basis and later on moved to the Pieces venue in West Village, where people can dance but also talk to each other on Saturday afternoons. "About 50% of the guests are Americans and the rest are European immigrants. Americans who come see how Eurovision fans react to the music with passion and so they become engaged as well"

Overall, during the last five years, the attitude towards Eurovision of the American audience has changed. "When I met people I had to explain them what is Eurovision, and now people know what it is – because of Conchita, the broadcasts on LogoTV and YouTube. The American nation doesn't accept new cultures easily and it is very exciting to see how Eurovision gets a place in the USA"
"America is so winning Eurovision next year!" – of The Late Show with Stephen Colbert on CBS following the Eurovision Song Contest 2016
On Saturday, 7 January, the Europhoria party will be dedicated to Gilad's farewell from the city. VJ Ohricky will play the greatest Eurovision songs, and as usual – the people will have the ability to text the screens and request songs, communicate with each other or just comment by text messages. "Very often you see Americans who aren't so familiar with the contest, so they are partly shocked"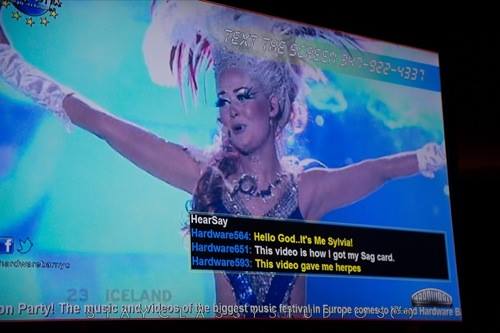 "This video gave me herpes" – Silvia Night (Iceland 2006)
More information regarding the event (and future events!) can be found on Europhoria's Facebook Page.