Australian songstress Dami Im has revealed more about her plans for her performance at this year's Eurovision Song Contest.
This week Dami's song, Sound of silence, was cleared of breaching the Eurovision rules about product placement, and she says she can now look forward to her big performance in Stockholm next month. Dami has spoken to the Australian media about her plans for her Eurovision live show.
I don't want the performance to be bigger than the song. I want there to be a sense of intimacy, as well as grandeur, so we're still working that out! It needs to be amazing and spectacular, but I also want the meaning to really come across.
Dami Im also performed her song live for the first time for guests attending the horse racing championships at Sydney's Royal Randwick Racecourse on Saturday. She describes this as a very encouraging experience.
Everybody really loved it, they've been telling me good things, that they love the song, they love my voice, so it was very encouraging, she said.
She travelled to Melbourne the following day, and performed her song at the Watergardens shopping centre. Here you can see this performance.
For her day at the races, Dami was wearing a crimson cut-out long-sleeved dress with a plunging neckline designed by ae'lkemi. She said that her outfit for the contest will be different again, being crafted by Australian fashion designer Steven Khalil. Steven Khalil has designed dresses for many Hollywood A-listers, including the Kardashian sisters, Paula Abdul and Dannii Minogue.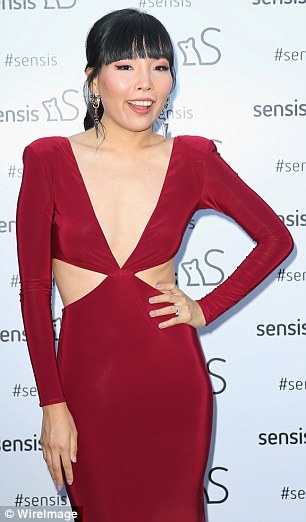 Dami describes her song as being about disconnection, as much as it is about missing your loved ones. She is currently fourth favourite with the bookmakers to win the Eurovision Song Contest. Despite being confident in her song and abilities, Dami reckons she will face tough competition from the current favourite, Russia.
The music video is just amazing and I think Sergey's going to try and perform that on stage. The video has earth, wind, fire and water – everything, so it'll be something very interesting to watch!
Dami Im will perform her song Sound of silence in the second semi-final in the 10th position.