SMRTV, the Sanmarinnese national broadcaster has unveiled the date when they are going to reveal their representative for Tel Aviv: it's all been decided in the small country and will be disclosed on 21 January!
As it became known a few days ago, both the entrant and song that will fly the nation's flag at this year's Eurovision Song Contest have been selected internally, after the broadcaster's refusal to run the online selection process 1in360 once again.
Two highly rumoured artists; SMRTV neither confirms nor denies
Following this recent announcement, there has been intense speculation regarding who could be the "international artist" that will take over San Marino's representation this year, with most of them claiming that the eccentric British artist Rodrigo Alves (aka as the Human Ken Doll) has already been given the Eurovision ticket.
These rumours were triggered after his Instagram post, on which he comments that he has recorded a pop song for Eurovision, while thanking in Italian the artist manager Alessio Fiorucci and the music composer Leo Marchi.
Apart from Rodrigo Alves, the Russian young singer Daryanna Kraieva is also the second highly-tipped artist that might defend the country's colours in Israel, as she herself stated that she had been invited to visit San Marino on 24 December, where she would propose her new song Hi Wi-Fi to SMRTV for Eurovision.
On its official page, the broadcaster has declared that it neither confirms nor denies the rumors concerning these two artists. So, let's wait a little longer!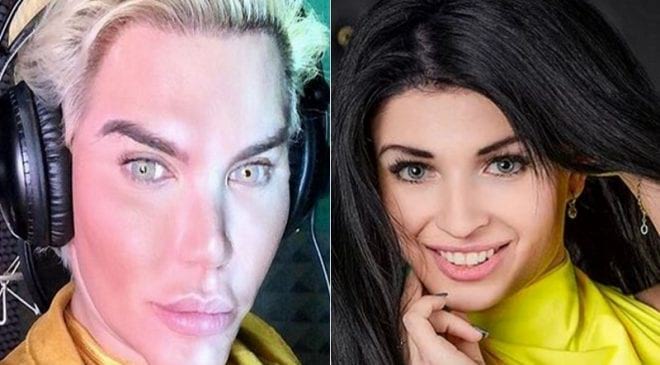 San Marino at Eurovision
San Marino debuted in the Eurovision Song Contest in 2008, with the band Miodio and their song Complice. Following a two-year break in 2009 and 2010, they have been participating every year since, and will be celebrating its 10th Eurovision participation in Tel Aviv.
The country has managed to qualify to the final only once, namely in 2014 with Valentina Monetta and her entry Maybe. Eventually, she ended up 24th with 14 points. The said singer has represented the nation a record of 4 times, the latest being in 2017, along with the American singer Jimmie Wilson.
In Lisbon, San Marino was represented by the duet Jessika and Jenifer Brening, who were the winners of their national selection format 1in360, which was introduced last year. They performed the track Who we are, with which they finished 17th in the 2nd semi-final, thus failing to qualify to the Grand Final.
After Netta's victory, the 64th Eurovision Song Contest is going to take place on 14, 16 and 18 May at the EXPO Tel Aviv in Tel Aviv, Israel. The contest's slogan is Dare to Dream.
ESCToday is growing and always looks for new members to join our team! Feel free to drop us a line if you're interested! Use the
Contact Us page
or send us an email at
[email protected]
!