The venue of the 2018 Eurovision Press Centre has been unveiled, Pavilhão de Portugal will be housing this year's press centre during the two Eurovision weeks.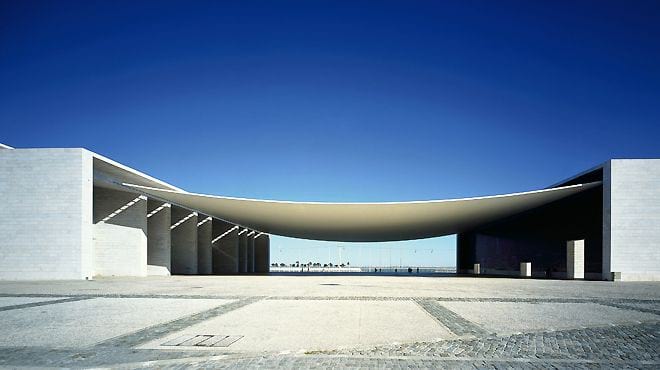 The 2018 Eurovision Press Centre will be located at the Pavilhão de Portugal, a stone throw away from  the main Eurovision venue Altice Arena,  at the Parque das Nações complex.
The Press Centre will include the traditional Press Working Area, Press Cafe and Restaurant, Press Conference Hall, Interview and Radio booths,  Meet and Greet area, Lounge area, Info and pigeon holes desk, Fan Area, Fan Desk. cloak rooms etc. Circa 2,000 journalists and accredited fans are expected to work in the press centre during the Eurovision weeks
About Pavilhão de Portugal
The Pavilion of Portugal aka Pavilhão de Portugal  has been designed by Álvaro Siza Vieira. The premises consists of  two main bodies separated by a construction joint. One of the bodies is a public square, measuring 60 x 50 meters, covered by a thin concrete canopy, reinforced by stainless steel beams attached to the lateral porticos.
With two floors above the ground, the main body of the Pavilion is slightly higher than the rest. A concrete canopy extends over the construction joint, enabling the architect to mark a subtle hierarchy in the relationship between the two bodies.
The building was specially designed and built for EXPO 98, the Pavilion of Portugal is famous for its impressive concrete canopy. Constructed with the collaboration of the celebrated Portuguese engineer, Segadães Tavares, and made of reinforced concrete, the canopy appears to be elegant and light, based on the idea of a sheet of paper resting on two bricks. It covers a large ceremonial square, looking out to the city, and is ideal for hosting large scale events.
For the structure of the interior area, currently closed to the public, Siza Vieira benefited from the collaboration of another leading Portuguese architect Eduardo de Souto Moura.
The 2018 Eurovision Song Contest is scheduled to be held at the Altice Arena on 8, 10 and 12 May.
ESCToday is growing and always looks for new members to join our team! Feel free to drop us a line if you're interested! Use the
Contact Us page
or send us an email at
[email protected]
!