Tonight, the French national selection in order to pick the French entrant at this year's Eurovision Song Contest in Lisbon took place in Paris.
Tonight, eight finalists who managed to qualify from the semi-finals of the French national selection for Eurovision took the stage for a final honour to represent France at the 2018 Eurovision Song Contest by winning Destination Eurovision!
This evening, the finalists performed alongside iconic French performers and stars, just like they performed covers during the semi-finals.
During tonight's final, Christophe Willem, one of the French jurors, performed one of his new song, whilst Alma who represented France last year in Kyiv also performed her Eurovision entry Requiem.
The Eurovision Song Contest's executive supervisor, Jon Ola Sand, was present tonight and said that he wanted to see France organise a national final every year.
Alma performing last year's French entry
It's mission accomplished for Madame Monsieur, who won tonight's selection!
Here were tonight's performers (in the following order):
Louka – Mamma mia (Performed Caméléon with Maître Gims)
Igit – Lisboa Jerusalem (Performed L'amour à la machine with Alain Souchon)
Emmy Liyana – OK ou KO (Performed Viens on s'aime with Slimane)
Madame Monsieur – Mercy (Performed Reine with Dadju)
Lisandro Cuxi – Eva (Performed Zombie with Nolwenn Leroy)
Max Cinnamon – Ailleurs (Performed Où je vis with Patrick Fiori)
Nassi – Rêves de gamin (Performed Elle m'a aimé with the Gypsy Kings)
Malo – Ciao (Performed Sirens call with Cats On Trees)
How was tonight's winner decided?
In the semi-finals, a combined jury voting system was used, where French jurors voted for their favourites together with 3 foreign jurors (Belarusian, Swedish and Italian), which resulted the qualification of the 4 finalists from each semi-final. No televoting was used during the pre-recorded semis.
Tonight not only did the public have their say with 50% of the final score, but in addition to the 3 international previous jury members from the semi-finals (Belarus, Italy and Sweden), 7 more juries from 7 more countries were added.
Here were the new jurors:
Armenia: Iveta Mukuchyan (Eurovision 2016 Armenia)
Bulgaria: Ivan Katsarev
Finland: Terhi Norvasto
Iceland: Felix Bergsson (Icelandic Head of Delegation)
Israel: Tali Eshkoli
Russia: Sergueï Pavlov
Switzerland: Reto Peritz (Swiss Head of Delegation)
Keep in mind that the French jurors did not vote during the final. It was up to the 10 international jury members and the televoters to pick the act.
Final results
Here are the results from tonight:
Madame Monsieur – Mercy 182 points
Lisandro Cuxi – Eva 162 points
Malo – Ciao 117 points
Emmy Liyana – OK ou KO 112 points
Igit – Lisboa Jerusalem 110 points
Max Cinnamon – Ailleurs 90 points
Nassi – Rêves de gamin 48 points
Louka – Mamma mia 15 points
Jury results
The first results of the evening were decided by the 10-member jury, in which each of the votes were added and combined in the official scoreboard. Here were the results following the first half of voting: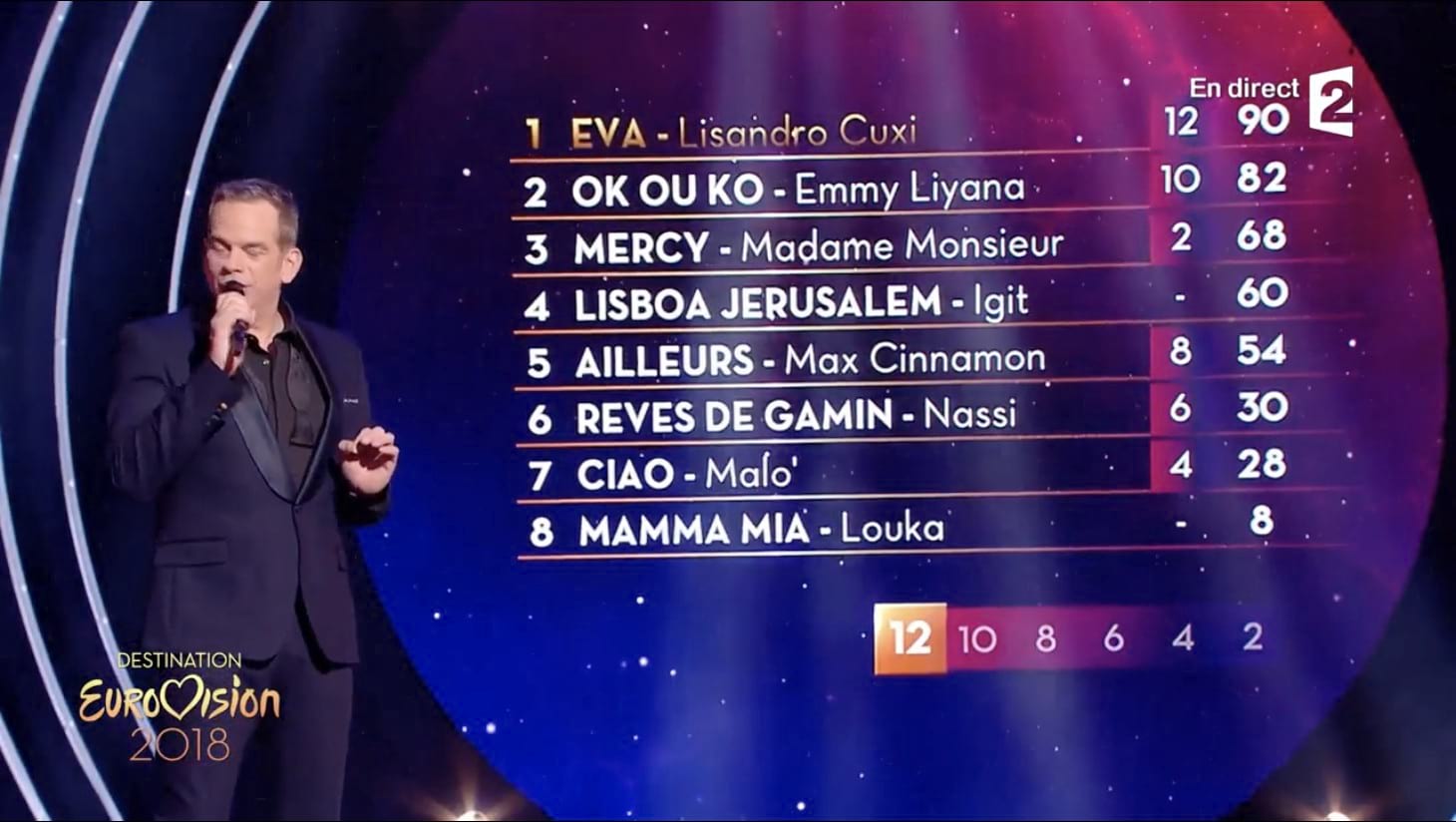 As you can see, Lisandro Cuxi's song Eva got the most points by the juries tonight; Emmy Liyana received the most sets of 12 points alongside him.
Televoting results
Tonight, the French people had their say and could vote for the song they most wanted to see go to the Eurovision stage in May. The televoting results were combined with the international jury votes, the results being as follows: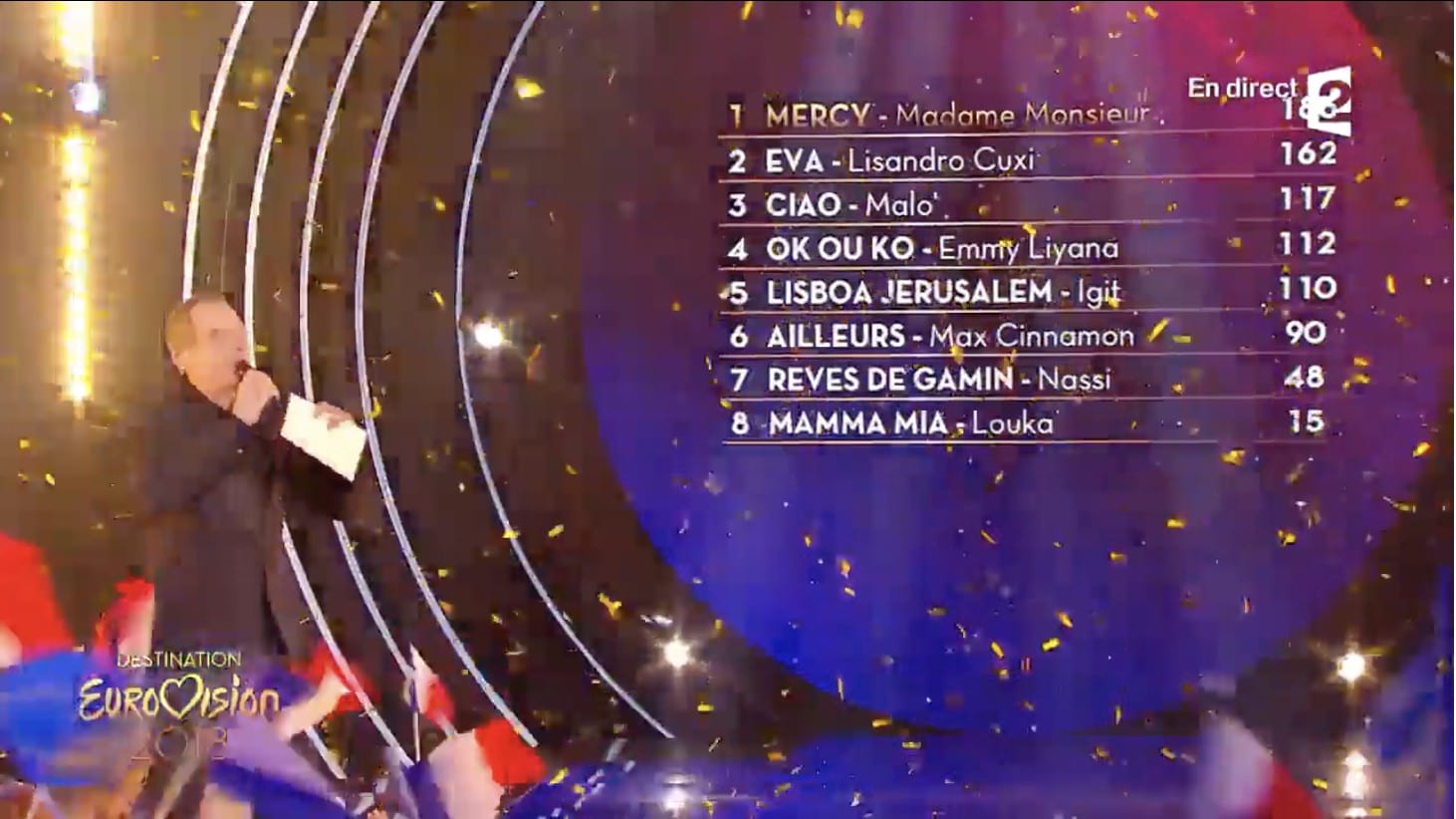 It's a clear that the French pubic voted for Madame Monsieur the most and therefore made it win the national selection. The jury placed them fourth, but this didn't manage them from winning the French selection.
Bonne chance à la France cette année à l'Eurovision et à Madame Monsieur qui la représenterons, nous vous souhaitons le meilleur à Lisbonne!
[playbuzz-item item="0ec36308-7f01-480d-b54c-2dec88212b8a" format="story"]
ESCToday is growing and always looks for new members to join our team! Feel free to drop us a line if you're interested! Use the
Contact Us page
or send us an email at
[email protected]
!