The New Wave Contest celebrates young and new talent and, this year, it will be hosted in Russia. Several Eurovision stars from Russia and beyond will be part of the jury this year, headlining this year's annual contest!
This year's New Wave competition will see a grand total of 11 music experts headlining the jury panel, many of which we all recognise from previous editions of the Eurovision Song Contest! How many can you recognise?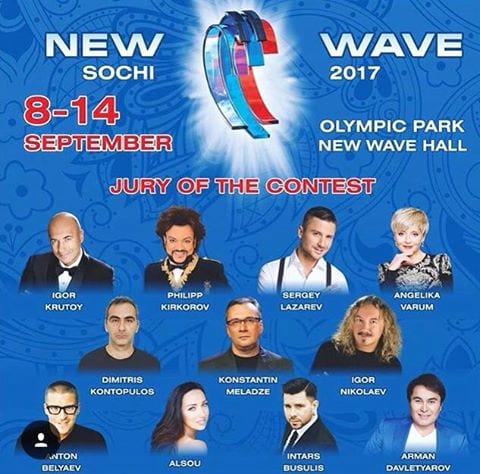 The contest embraces new talent from many countries across the globe and this year, it will be held from the 8 to the 14 of September.
Familiar contestants
Some familiar faces can be seen on the participant list such as Armenia's Syuzanna Melqonyan, who finished 3rd in the Armenian national selection in 2017 behind fellow participants Marta and eventual representative Artsvik.
Another familiar name is the group DoReDoS who previously tried to represent Moldova at the Eurovision Song Contest in 2016.
Will one of them be crowned the winner of New Wave 2017, going on to join the hall of fame alongside former Eurovision participants Cosmos (Latvia 2006), Intars Busulis (Latvia 2009), Natalia Gordienko (Moldova 2006) and Jamala (Ukraine 2016).
Jury lineup
Included amongst the lineup are 3 former Russian Eurovision acts; Russia's 1995, 2000 and 2016 Eurovision representatives Philipp Kirkorov (who has also composed many Eurovision entries to follow over the years), Alsou (who brought Russia their best result at the time and first out of 4 second places, also co-hosted the Eurovision 2009 final) and Sergey Lazarev will be part of the New Wave Contest held this September in Sochi.
Also hitting the jury lineup at New Wave 2017 is Latvia's 2009 representative Intars Busulis, who is known more recently in the host country of Russia for his participation in season 3 of the Russian version of The Voice.
Another composer included in the jury, who has been involved in numerous Eurovision entries since 2007, is Dimitris Kontopoulos who most recently worked with Greece's Demy at the 2017 Eurovision Song Contest with the song This is love.
Russia in Eurovision
Russia is a very present country in Eurovision, having only missed the 2017 edition since the introduction of the semi-finals. This was due to their entrant being banned by Ukrainian security services from entering the country for 3 years due to a controversial visit to Crimea.
Their last entry, You are the only one by Sergey Lazarev, won the televote in 2016 and came 3rd overall. Will they be back at the 2018 competition looking for their second victory?
ESCToday is growing and always looks for new members to join our team! Feel free to drop us a line if you're interested! Use the
Contact Us page
or send us an email at
vacancies@esctoday.com
!