The EBU has elected a new TV Commitee this week at the TV Assembly in Porto, Portugal.
RTP, the Portuguese national broadcaster, has hosted the 25th EBU TV Assembly this week where a new set of TV Committee members has been appointed.
SVT's Head of Content Strategy Markus Sterky has been re-elected as the TV Committee's President along with 4 vice-presidents:
Ana Maria Bordas (TVE/Spain) re-elected

Nicola Caligiore (RAI/Italy) re-elected

Dermot Horan (RTE/Ireland)  re-elected

Olga Bordeianu (TRM/ Moldova)

The following members have been appointed to join the TV Committee for a 2 year term:
Albrecht Bischoffshausen (ARD/Germany)
Natalija Gorscak (RTVSLO/Slovenia) re-elected
Faruk Güven ( TRT/Turkey)
Petri Jauhiainen (YLE/Finland) re-elected
Arnaud Ngatcha (FTV/France) re-elected
Ekaterina Orlova (RTR/Russian) re-elected
Matt Travers (BBC/United Kingdom)
Bakel Walden (SSR SRG/Switzerland)
Familiar faces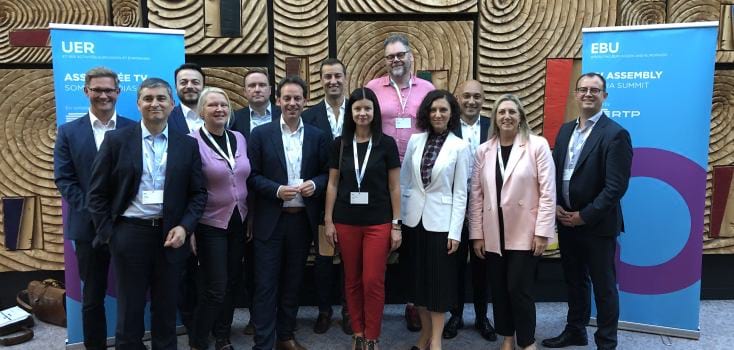 We have three familiar faces in the new TV Committee, the Heads of Delegation from Spain, Russia and Italy have been re-elected for a second term. TVE's Ana Maria Bordas is now one of the four vice- presidents of the TV Committee, thus joining RAI's Nicola Cagliore who has been re-elected as a vice-president. RTR's Ekaterina Orlova has also been re-elected as a committee member for another term.
About the EBU's TV Committee
The EBU's TV Committee oversees the operations of the EBU's TV services and assists in steering the operational and strategic direction. The Chairman and President are nominated by the TV Committee.
The TV Committee monitors the progress of events like the Eurovision Song Contest, approves the strategy of the television services and controls the television development fund. Moreover they help establish standards and procedures. The committee meets 4 times throughout the year, with remaining business conducted electronically. Since 2013 the TV Committee also has held joint meetings with the Radio Committee.
ESCToday is growing and always looks for new members to join our team! Feel free to drop us a line if you're interested! Use the
Contact Us page
or send us an email at
[email protected]
!