Today saw the beginning of second rehearsals in the host city of Tel Aviv, with the first 15 countries of the first semi-final taking to the stage of Expo Tel Aviv in order to perfect their upcoming appearances at the live show. And problems appeared from the very early moments…
First to get on stage was Cyprus, which is being represented by the Georgian-Greek artist Tamta. Despite a powerful opening performance, the released clip of the rehearsal stirred negative reactions among the audience and fans, due to the poor quality of the sound.
However, it finally seems that there has been another kind of problem… Following this upheaval, the Cypriot national broadcaster CyBC issued an official announcement on Facebook, where it was explained that several technical problems were faced during today's rehearsal, which had already been solved, as the contest's organizers accepted their request for a new in-ear rehearsal and sound check.
Here's the broadcaster's annoucement on Facebook: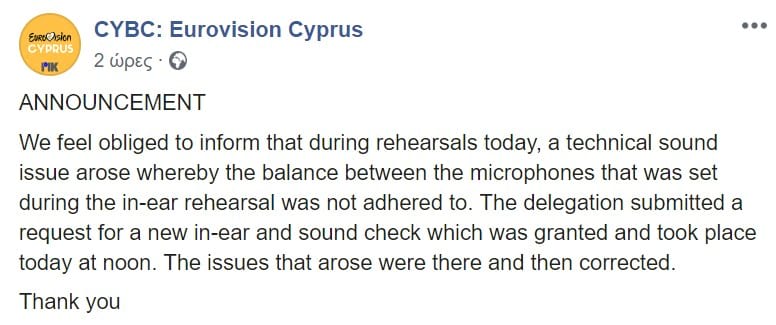 We would like to wish good luck to Tamta and the Cypriot delegation, which will be competing at the first semi-final on 14 May.
The 64th Eurovision Song Contest will be taking place on 14, 16 and 18 May at the Expo Tel Aviv in Tel Aviv, Israel.
ESCToday is growing and always looks for new members to join our team! Feel free to drop us a line if you're interested! Use the
Contact Us page
or send us an email at
[email protected]
!