Up there in the Atlantic, Iceland's preparations for their national selection event Söngvakeppnin 2019 are well and truly underway. On the show's stage, a total of 10 acts, which are soon to be unveiled, will battle it out for the country's ticket to Eurovision. But how is this stage going to look like?
Today the Icelandic broadcasting service RÚV revealed the stage format for Söngvakeppnin 2019, designed by Alfreð Sturlu Bödvarsson, Inga Bekk, Karl Sigurðsson and Vigni Erni Ágústsson.
Below you may see a stage's maquette: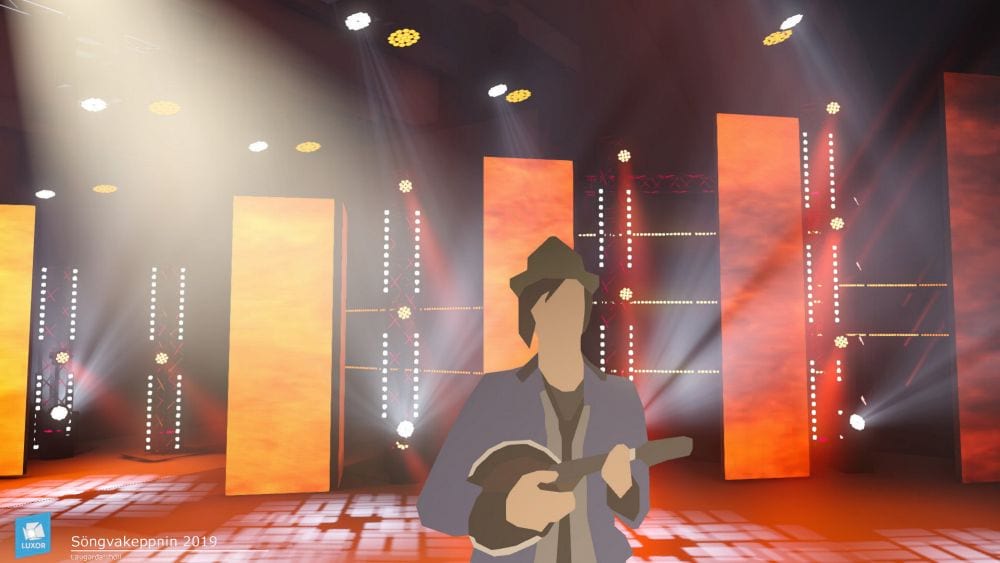 Here's RÚV's description:
The show's stage will consist of LED screens and lights. Its monitors will be set up like cobblestone pillars
. The range has a high gloss dance fabric. The main LED screen is 103 m² with a resolution of both 3.9 mm and 5.9 mm. The stage at Háskólabíó venue, which will be hosting the two semi-finals, will be based on the same design, but in a slightly smaller size.
The stage's supervision has been assigned to Orri Rósenkranz.
11 cameras will be covering the shows, while audio voices will be used in broadcast, as a novelty at Iceland's annual event. These voices are run from a program that transmits 24 channels. Thus, the sound engineers will have better sound control and will be able to mix the music specifically for broadcast with live transmit of singers at the venue.
RÚV is going to disclose the 10 competing acts of Söngvakeppnin 2019 this Saturday, 26 January at 20:45 CET (19:45 local time). All songs will be released in both Icelandic and English and will be available on YouTube and Spotify.
Tickets for the three shows will be on sale from 30 January through tix.is. You may discover more about Söngvakeppnin on its official webpage.
Söngvakeppnin 2019 agenda
26/1 – Artists and songs announcement
09/2 – Semi-final 1 – Háskólabíó
16/2 – Semi-final 2 – Háskólabíó
02/3 – Grand Final – Laugardalshöll 
Iceland at Eurovision 2018
Following once again their annual tradition, Iceland used Söngvakeppnin in order to pick their hopeful for Eurovision Song Contest 2018. At the final on 3 March, the young artist Ari Ólafsson was crowned as the show's winner, who would be representing the nation in Lisbon, with his ballad Our choice.
He finally didn't manage to qualify to Eurovision's Grand Final, coming only 19th at the first semi-final with a total of 15 points. Here is his live performance at the Altice Arena:
Following Netta's victory with Toy, the 64th Eurovision Song Contest is set to take place on 14, 16 and 18 May at the EXPO Tel Aviv Convention Center in Tel Aviv, Israel.
ESCToday is growing and always looks for new members to join our team! Feel free to drop us a line if you're interested! Use the
Contact Us page
or send us an email at
[email protected]
!