A national tragedy for Greece… In the middle of the summer, the Balkan country is facing the consequences of an unprecedented disaster, after the horrific fires in the region of Attica left behind ashes, more than 80 dead people, dozens of wounded and missing ones, and people mourning their beloved ones. 
From the start of the flow of unpleasant news on Monday night, the Greek and not only artistic world hastened to express its sympathies to the relatives of the victims and to offer practical help in every way.
The artists' posts on social media were endless. Others to express condolences, others as open calls for help, others as announcements of cancellations of imminent concerts and events, as a sign of mourning. But let's check out some of them:
Eleni Foureira
Despite being abroad on her European tour, the Greek pop star who represented Cyprus at this year's Eurovision Song Contest, expressed her deep sorrow for the tragic developments in Attica and announced a very important action by her side. Eleni and her colleagues are going to offer all their revenues from her last 3 concerts to the fire victims.
Eleni Foureira wrote the following:
The most difficult times for Greece find me abroad. But my mind and heart are close to our fellowmen who are facing this tough time. The least I can do is to pray for them and offer with my colleagues our revenues from our last three concerts. #PrayforGreece
In Tirana, where she went for a concert and during a meeting with the city's Mayor, Erion Veliaj, Eleni thanked him for his municipality's decision to offer financial help to the Greek fire victims.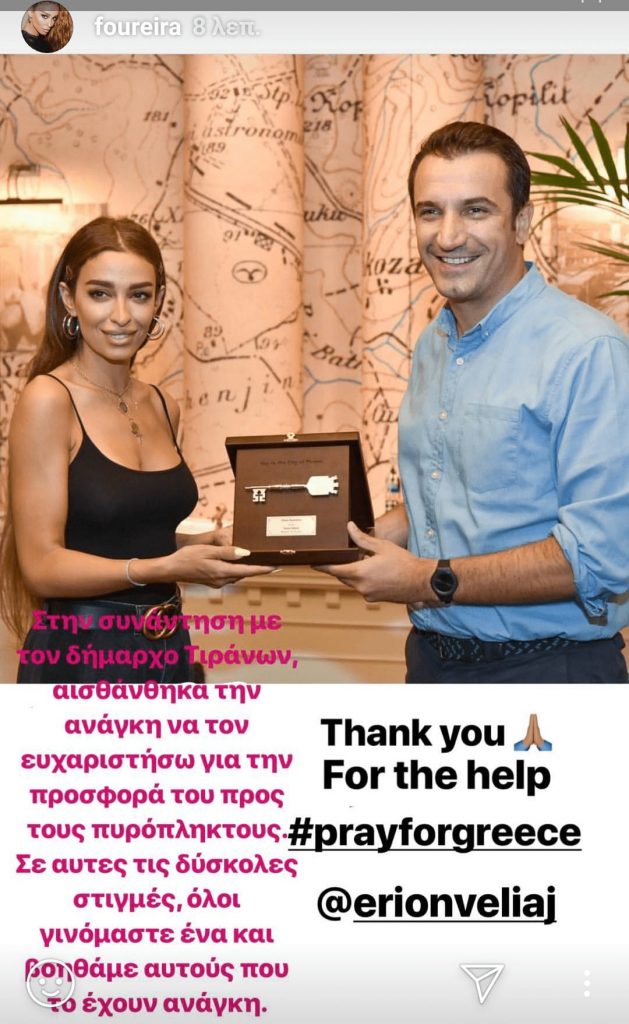 Yianna Terzi
With deep pain, this year's Greek representative Yianna Terzi posted the picture below on Instagram, while commenting:
My Greece. You burn your children. Metaphorically and literally. Why?
Since Tuesday, the Greek singer hasn't stopped posting Instagram stories in order to raise awareness on how someone can offer help to the victims.
Demy
Same as Yianna Terzi and with great sadness, the 2017 Greek entrant Demy keeps posting ways of help, while she shared some of her thoughts in a black background.
Demy said the following last Tuesday:
Yesterday evening I was crying until I fell asleep but I could not imagine what I read in the morning. I have no words about this tragedy, just a weight in my heart. To the families; stay strong!
Anyone who can, let's voluntarily help in any way the affected areas. There is an urgent need for medicines and dry food. Let's not forget it in one day. We should be thankful to fire-fighters who once again, with self-sacrifice are trying to cover the state's inadequacy.
'Wherever I travel Greece hurts me …'
Helena Paparizou
The winner of the Eurovision Song Contest 2005 postponed her concert in Heraklion, Crete, which was scheduled to take place tonight, to Friday 17 August. Helena wrote:
My dear friends,

the concert at the Island of Desire in Heraklion is postponed from 27 July to 17 August. I feel deeply saddened by the trials experienced by our country over the last few days.

My thoughts are close to the people who unjustly passed away and their families, those in the hospitals and those who lost their properties in a few hours.

I wish strength, courage to us all and may God be with us…
Sakis Rouvas
The two-time Eurovision entrant and former host, Sakis Rouvas, whose cottage located in the affected areas suffered partial damage, wrote shocked:
The human mind can't realize the magnitude of the tragedy that has occurred in our country. I see the region where I live, I am shocked and into mourning together with the families who lost their people. Let's be united.
https://www.instagram.com/p/BlpzmbZF6lt/?taken-by=sakisrouvas
Mikolas Josef
There are plenty of messages coming from abroad too. Mikolas Josef, the Czech 2018 who recently visited Greece and performed at the MAD Video Music Awards 2018 event, sent his own message of support with the following post:
Greece I am with you 🙏🏻❤️🇬🇷 #staystrong
https://www.instagram.com/p/BlnxxbInmpq/?taken-by=mikolasjosef
Hovig
Singer Hovig, who represented Cyprus last year in Kyiv, shared a tweet with which he wishes strength to everyone who is currently suffering from the fires. Subsequently, he pleasantly retweeted the announcement of the Cypriot President Nicos Anastasiades, whose goverment is going to donate a large amount of 10 million Euros to the Greek fire victims:
https://twitter.com/hovigmusic/status/1022165783168860160
Philipp Kirkorov
The Russian former Eurovision entrant and musician, who has close professional relations with Greek artists, also expressed his sadness with a picture of the brown sky of Athens:
Lord, save the sacred Greece…
https://www.instagram.com/p/BloeBcxFVcA/
Here at ESCToday, we are sending our sincere condolences to the families of the victims… Our best wishes for strength and courage to everyone affected by this tragedy…
ESCToday is growing and always looks for new members to join our team! Feel free to drop us a line if you're interested! Use the
Contact Us page
or send us an email at
[email protected]
!