Waylon, Dutch Eurovision 2018 representative and Eurovision 2014 runner-up with The Common Linnets, has presented the tracklist of his upcoming album The world can wait, a title inspired by a very personal experience.
The world can wait by Waylon is a labour of love, returning to the Dutch singer's musical passion for pure country and gritty country rock.
Waylon wrote and recorded most of the album in Nashville, Tennessee, together with his team, including acclaimed Russian guitarist/singer-songwriter Ilya Toshinsky and lyricist Jim Beavers.
The world can wait will of course feature Waylon's Eurovision 2018 entry Outlaw in 'em and the four songs he presented leading up to Outlaw in 'em's reveal, plus five other original songs.
The album will be released on Friday 13 April. The accompanying The world can wait -tour starts on Thursday 12 April.
The world can wait tracklist
Back together
Outlaw in 'em
Shadows in the dark
That's how she goes
Home
Paperboy
Highway of heartache
She just wants to play
Thanks, but no thanks
The world can wait
Personal inspiration
The album's title and title track were inspired by a personal experience, the burn-out of Waylon's partner, celebrity vlogger Bibi Breijman. When all the work got to her, resulting in a serious breakdown, Waylon gave Bibi some sound advice:
Even grown men in talkshows had an opinion about her. At home, I then suggested her that the world can wait for a while. Later I found it to be a nice input for a song.
The burn-out became a turning-point for Bibi, who met Waylon during the musical TV-show It Takes 2:
She filmed her whole life and was busy with it the whole day. The editing is lots of work as well. It was the switch in her life. It took her by surprise. I also told her she wouldn't become a singer from one day to the next. What you need for that, is dedication. Don't think about all those people who have an opinion about you, think about yourself.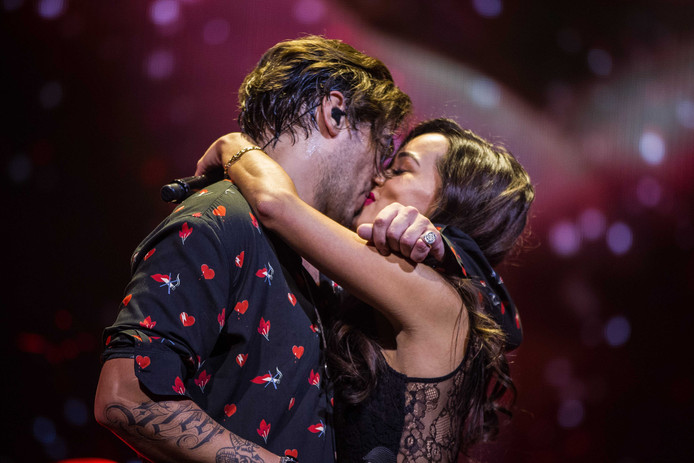 Waylon and Eurovision
At Eurovision 2018, Waylon will perform Outlaw in 'em in the first half of semi-final 2 on Thursday 10 May.
Waylon (born Willem Bijkerk, Apeldoorn, 1980) is a Dutch singer-songwriter. As special guest frontman of The Common Linnets, the country group around singer Ilse DeLange, he represented the Netherlands at the 2014 Eurovision Song Contest in Copenhagen, Denmark.
With their haunting country ballad Calm after the storm, The Common Linnets won semi-final 1 and ultimately reached the honourable 2nd place in the Grand Final, receiving 238 points.