The 2018 Moldovan Eurovision hopefuls have announced the dates of their Eurovision promo tour. Cypriot Eurovision veteran Alex Panayi has joined the trio's team.
DoReDoS will be kicking off their promo tour this weekend in Kaunas, Lithuania and will conclude in Madrid on 21 April. The trio will be travelling to Lithuania, Russia, Latvia, Estonia, United Kingdom, The Netherlands and Israel in the coming weeks.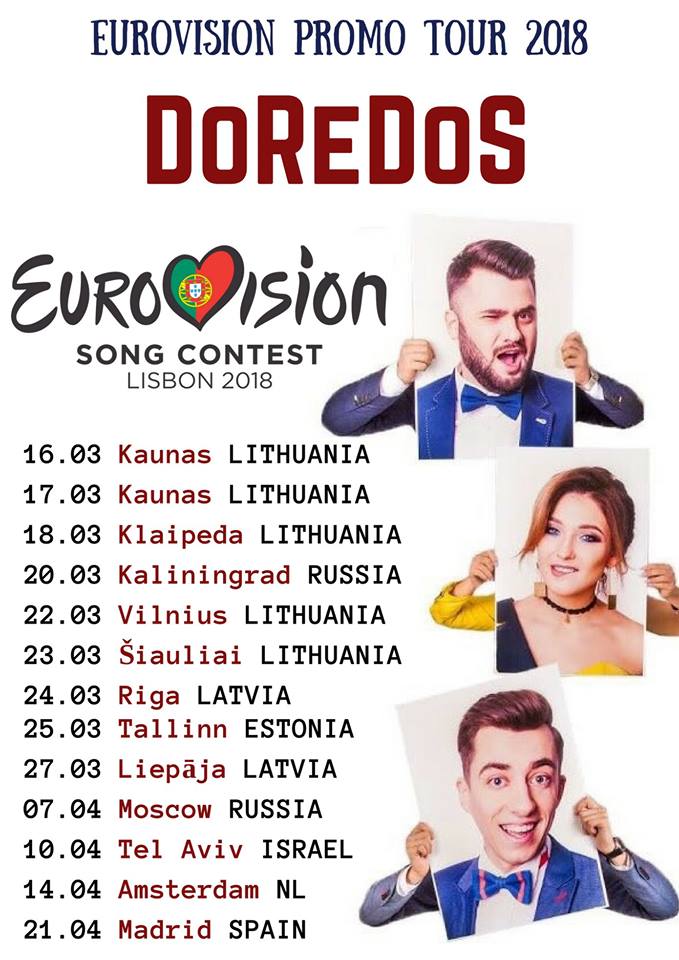 Alex Panayi joins #TeamMoldova
Eurovision veteran Alex Panayi has joined the Moldovan team as their vocal coach. Panayi has represented his home country Cyprus at the Eurovision Song Contest twice in 1995 and 2000. He has been involved in the Eurovision Song Contest as a vocal coach for several countries on numerous occasions:  Russia, Azerbaijan, Belarus, Greece etc.
DoReDoS in Eurovision
DoReDoS were the crowned the winners of the 2018 Moldovan national final last month and will defend the Moldovan colours at the forthcoming 2018 Eurovision Song Contest in Lisbon. Their Eurovision entry My lucky day has been composed by Philipp Kirkorov and penned by John Ballard.
About DoReDoS
DoReDoS is currently amongst the most popular and sought after groups in Moldova. They won the celebrated New Wave Song Festival last September in Sochi. Their fame and music has crossed borders and reached countries far and away.
The DoReDoS group was born in 2011 and consists of of three vocalists: Marina Jundiet, Evgeni Andriyanov and Sergei Myza.
All three artists hail from Rybnitsa, where they met and decided to create their own musical group. Hereafter they moved to the Moldovan capital Chișinău, where they graduated from the Academy of Music, Theater and Fine Arts.
In 2013, Evegeni Andriyanov won the second prize at the Slavianski Baazar Song Festival in in Vitebsk, Belarus. The following year DoReDoS won the 2014 International Pop Music Competition in Romania.
In 2015 and 2016, the group competed in the Moldovan Eurovision national selection. The trio has also competed in the internationally acclaimed X Factor talent show, namely in the Romanian version.
In 2017, DoReDoS won the New Wave Song Festival in Sochi, Russia. Thanks to their victory in the song contest, the group received the Honored Artist of Moldova Award in their homeland.
Moldova in Eurovision
Moldova debuted at the Eurovision Song Contest in 2005 and is yet to win the competition. The country achieved its best result in the contest last year when Sunstroke Project placed 3rd at the 2017 Eurovision Song Contest in Kyiv.
Moldova will compete in the semi-final of the 2018 Eurovision Song Contest in Lisbon on 10 May.