The 2003 Spanish Eurovision representative Beth is the latest former Spanish Eurovision hopeful to visit the Operación Triunfo 2017 academy. She met up with the aspiring young participants and spoke to them about her OT experience and Eurovision participation.
Last week, TVE confirmed that the 2018 Spanish Eurovision representative will be selected via Operación Triunfo 2017.
The show has slowly but swiftly gained back much fame and name in Spain and has set the social media platforms on fire. Circa 2 million viewers tuned in to see last Monday's show.
One of the 16 participants will be awarded the golden ticket to fly to Lisbon in order to defend the Spanish colours at the 2018 Eurovision Song Contest.

About Beth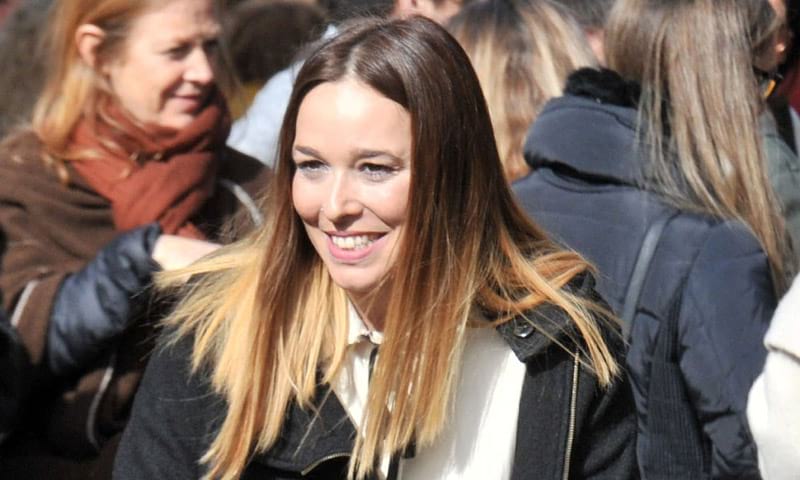 Beth placed 3rd in the 2nd edition of Operación Triunfo and won the golden ticket to Riga with her entry Dime. She represented Spain at the 2003 Eurovision Song Contest and placed 8th in the Grand Final.
Beth thus joins Soraya Arnelas (Spain 2009), Pastora Soler (Spain 2012) Rosa Lopez (Spain 2002), Barei (Spain 2016), Nina (Spain 1988), Manel Navarro (Spain 2017) and Ruth Lorenzo (Spain 2014) all former Spanish Eurovision hopefuls who have graced the OT 2017 Academy and shows.
Beth in OT 2017
The Catalan born artist got the chance to visit the 2017 OT Academy and mingle with the young hopefuls.
Beth shared her OT and Eurovision experiences with the aspiring hopefuls during the meet up. She told them that she was returning to the academy after 15 years.
She commented that she stayed 4 months in the academy and had lived many great moments and experiences inside.
Regarding Eurovision, she told the OT 2017 participants that it was an amazing experience but that she had gone to the contest with a song that she didn't like.
She said that her Eurovision entry Dime was not her type of song, and she didn't embrace it when she went to Riga. She was overwhelmed with how popular the song was amongst the Spanish public.
Beth went on to comment that she was under a lot of pressure when she went to Eurovision, as there were high expectations and it was just a year after Rosa's participation.
She told the young artists that Eurovision is a great opportunity for their careers and if they are to compete in the contest, they should make the most of it.
Beth is very grateful to Operación Triunfo as she has achieved many things thanks to her participation in the talent show.
Operación Triunfo and Eurovision
Operación Triunfo kicked off in Spain in 2001 and TVE used it as the mechanism to select the 2002 Spanish Eurovision entry and act.
The first edition of the talent show was a massive hit in Spain, thus getting much exposure and mediatic coverage. Rosa Lopez was crowned the winner of OT 2001 and won the golden ticket to Tallinn with her song Europe's living a celebration.
TVE used the same format for the following 2 years in order to select the Spanish Eurovision entry and act: Beth (2003) and Ramon (2004).
TVE axed the show after its third edition. In 2005, Spanish private television channel Tele Cinco revived the talent show and aired a total of 5 seasons and had no link to Eurovision.
We must not forget that 2 of the participants of the 4th edition of Operación Triunfo went on to represent years after their participation: Soraya Arnelas (2009) and Edurne (2015).
Spain in Eurovision
Spain debuted in Eurovision in 1961 and has won the competition twice (1968 and 1969). The country enjoyed much success in its early days, but now seems to have had a reverse in fortunes. We must not forget that Spain has not made it to the Top 5 since 1995.
The Iberian country has only made it twice to the Top 10 in the last decade, namely in 2012 and 2014 with Pastora Soler and Ruth Lorenzo respectively.
In 2017, Spain selected its Eurovision entry via a national final leading to Manel Navarro's victory and winning the golden ticket to Kyiv with Do it for your lover. Unfortunately Spain came last in the Grand Final, continuing the bad spell of poor results in the competition.
ESCToday is growing and always looks for new members to join our team! Feel free to drop us a line if you're interested! Use the
Contact Us page
or send us an email at
[email protected]
!