It was earlier announced that the 2002 (as part of the band ONE) and 2005 Cypriot entrant Constantinos Christoforou will present the results of the Greek jury voting in the Grand Final of 13 May.
This marks the third time for Constantinos being a spokesperson. His first was for Cyprus back in 2006 and the second was again for Greece last year in Stockholm.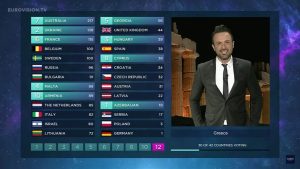 The Greek-Cypriot singer earned 6th place under the flag of Cyprus in Eurovision 2002 with the boyband ONE and their song Gimme and ended up 18th when he went solo in Eurovision 2005 with his entry Ela ela.
Here you may enjoy him in 2002 and in 2005 respectively:
Greece's entrant for 2017 is the young pop singer Demy. You can take a look at our live coverage of her first rehearsal here on ESCToday.
The Greek delegation will perform 10th in the first semi-final on 9 May. The 62nd Eurovision Song Contest is taking place on 9, 11 and 13 May at the IEC in Kyiv, Ukraine.