We have our first song entry for Eurovision 2017! Lindita Halimi has won the Albanian festival, Festivali i Këngës 55, and will represent Albania at the 2017 Eurovision Song Contest in Kyiv next May!
It's been a busy few nights in Tirana, with one of nation's biggest festivals as well as the Eurovision national selection for the country, Festivali i Këngës (FiK) 55, taking place over the course of 3 evenings.
With 12 acts performing in each of the 2 semi-finals, only 14 acts managed to qualify to the Grand Final of FiK this evening, each of whom were determined via a combined jury and public vote.
That combined vote continued into tonight's finale, with both the jury and public deciding who should reign victorious in the festival and therefore proceed onto representing Albania at the 2017 Eurovision Song Contest.
It was a close contest with only small amount of points separating each of the top competing entries, consisting of artists Lindita Halimi and Genc Salihu, however it was Lindita Halimi who went on to take a clear lead and receive the most points in the final with her entry Botë, therefore earning the right to represent the nation at Eurovision 2017.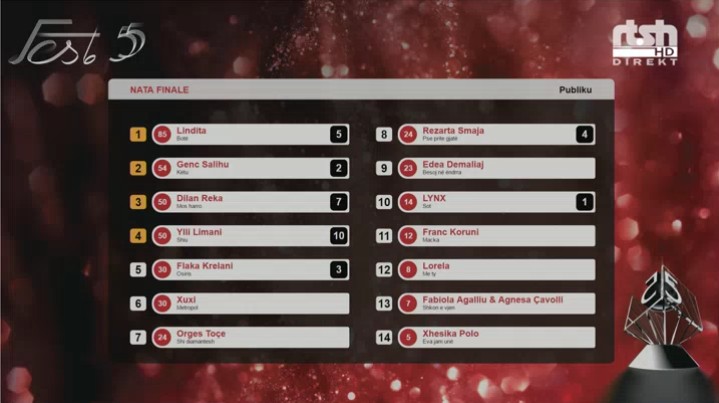 Listen to our first Eurovision 2017 song entry, Botë, here!
As with past Albanian entries, it is expected that some form of revamp will take place before the European contest is set to take place in May, however it remains unknown how significant of a revamp the entry will receive.
Albania will compete in one of the 2 semi-finals for the 2017 Eurovision Song Contest on either the 9 or 11 May 2017, with the nation bidding for a place in the Grand Final on the 13 May 2017.