Despite not qualifying to the final of this year's Eurovision Song Contest, the interest in Estonia is high. A record of 242 entries were submitted for Eesti Laul 2017, the Estonian national selection for the upcoming contest.
So far, the record was broken every year, with 189 entries submitted in 2014, 219 entries in 2015, 238 entries in 2016 and 242 for the 2017 edition of the selection.
The increasing popularity of the contest comes not only from artists, songwriters and producers – but also from the public itself which already bought a third of the tickets to the final of Eesti Laul, since the beginning of the ticket sale during the Eurovision week back in May.
Jüri Pootsmann and his backing singers inviting you all to buy tickets to Eesti Laul 2017 from the streets of Stockholm
The semifinal stage of Eesti Laul 2017 will take place on 11 and 18 February while the grand final will be aired live on 4 March from the Saku Suurhall Arena in Tallinn, which hosted last year's final as well as the Eurovision Song Contest in 2002. "The hall can accommodate a total of 5500 viewers, and the interest it so great that the tickets for the dress rehearsal are on sale too", says Mart Normet, the Executive Producer of Eesti Laul.
ERR's committee will gather to listen to the submitted entries on 7-8 November and the 20 chosen semifinalists will be announced on 8 November (next Tuesday!) on ETV's program Ringvaade.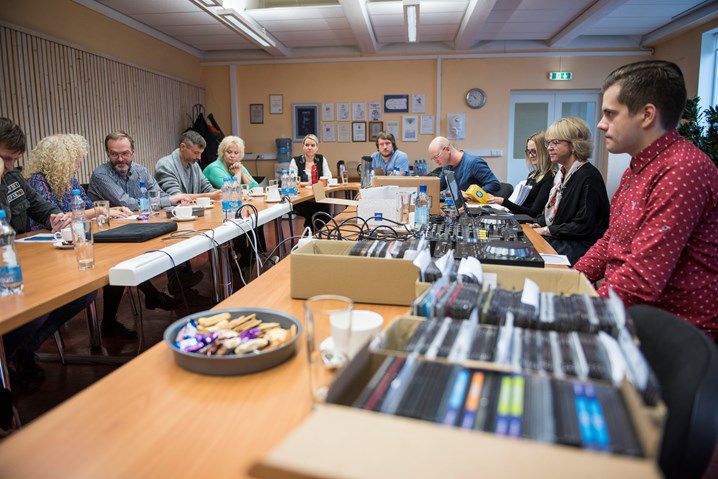 Choosing the 20 semifinalists – that's how it looked like last year
As songs are being released independently by the respective artists and record companies, we might get to see at least a part of the entries released online, especially on YouTube and SoundCloud, as soon as they will be announced. They will be updated as well here on ESCToday.
Stay tuned to ESCToday for more news regarding Eesti Laul and Estonia at the Eurovision Song Contest 2017!