Joe Woolford, half of this year's United Kingdom Eurovision entry Joe & Jake, is heading back to his home town to take part in a fundraising event for treatmemt for his disabled cousin.
Freya Woolford, who is five years old, suffers from spastic diplegia cerebral palsy and needs £65,000 for life-changing surgery in the United States. The operation will lengthen the muscles in Freya's calves, meaning she should be able to walk independently rather than with the support of a frame.
The five-year-old's mother, Beth, has been organising the fundraising event since last year, and she is close to reaching her target to pay for the surgery in St Louis, Missouri. The event will take place on October 29 in Ruthin, Joe's home town, at Ruthin Farmers' Auction.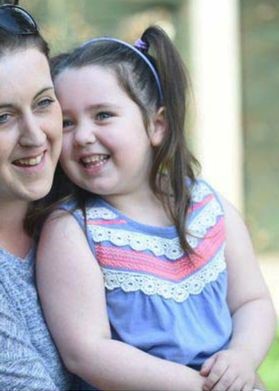 The organiser of the event, Neil Roberts, hopes that it will be the final push to allow the little girl to have the pioneering treatment.
Beth said: When I first heard about it, was terrified to be honest, because you hear about an operation on the spine and cutting nerves, something could go terribly wrong. We've opted to go to America to do it because Doctor Clarke is the pioneer and has been doing this since the 1980s, with a near enough 100% success rate.
Four-year-old Ava Evans from Prestatyn, also in Wales, returned from the US in May having undergone the same procedure and has since started to walk independently.
The target of £65,000 for Freya's Freedom was set in 2014 and mum Beth says the support in the small town has been "unreal". She has already raised almost £45,000 for Freya's treatment.
She added: To see her walk, run and skip, jump in puddles, take her to a shoe shop and buy 'normal' shoes, to ride a bike, to see her walk into school hand in hand with her friends rather than holding on to a walking frame, to see her do all the things most of us take for granted would be the best gift we could ever get.
For anyone who is local, tickets cost £10 and are available from at Richard Williams Builders' Merchants, The Feathers and The Boars Head in Ruthin.
You can donate to Freya's Just giving page here.
Joe & Jake represented the United Kingdom in the 2016 Eurovision song contest with their song You're not alone. They finished in 24th place with 62 points.