At the Closing Party of the 2016 EuroPride in Amsterdam a lot of Eurovision stars will perform, including Barei, Conchita Wurst and Kate Ryan.
The 2016 EuroPride Festival in Amsterdam started 23 July, the city becoming the scene for many activities and parties dedicated to LGBT-rights and awareness. None other than Conchita Wurst is the international ambassador for this years' EuroPride, and the Austrian artist and winner of the 2014 Eurovision Song Contest in Copenhagen already performed in the past days, as did Trijntje Oosterhuis (Eurovision 2015), Jennie Lena (backing vocalist for Trijntje Oosterhuis at Eurovision 2015), Shirma Rouse (backing vocalist for Anouk at Eurovision 2013) and O'G3NE (formerly Lisa, Amy & Shelley, Junior Eurovision 2007).
The festivities will continue until Sunday 7 August . During the Closing Party of EuroPride 2016, many former Eurovision participants will take to the stage and end the festival in style. Not only will international EuroPride ambassador Conchita Wurst perform once again, she will be joined by Barei, who represented Spain at the 2016 Eurovision Song Contest in Stockholm, and Kate Ryan, who represented Belgium at the 2006 Eurovision Song Contest in Athens.
Furthermore, many former Dutch Eurovision participants will join the closing ceremony, as part of the Dutch Star Parade: Ronnie Tober (Eurovision 1968), Ben Cramer (Eurovision 1973), Sandra Reemer (Eurovision 1972, 1976 and 1979) and Justine Pelmelay (Eurovision 1989).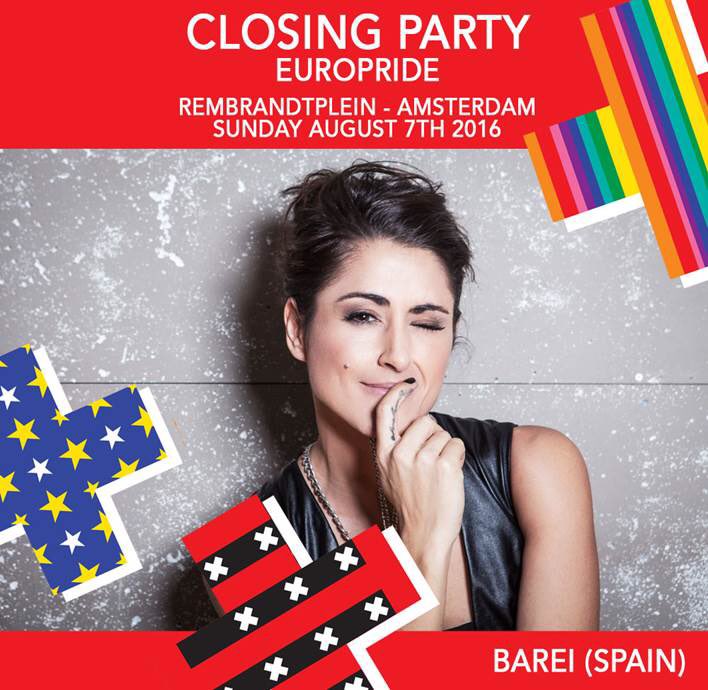 Other artists and DJ's will also perform, and artists may be added to the line-up in the coming days.
The Closing Party of EuroPride 2016 will be held Sunday 7 August, at the Rembrandtplein (Rembrandt Square), Amsterdam, from 14.00 t0 22.00 CET. Hosted by Diva MayDay, the entrance is free.
For more information about the activities during EuroPride 2016 in Amsterdam, please visit Pride Amsnterdam's official site.
To get into the mood, please enjoy Barei from Spain performing her 2016 Eurovision-entry Say yay! during the Grand Final in Stockholm once again:
Stay tuned to ESCToday.com for all the latest news on the Eurovison Song Contest!