Congratulations Jamala! The Ukrainian artist and Eurovision 2016 winner has confirmed that she is pregnant with her first baby.
Rumours about Jamala's pregnancy were spreading lately. Jamala and her husband Bekir Suleimanov, who married each other earlier this year, finally revealed the happy news on the singer's Facebook page:
Of course, I would like to keep it secret and share the news only with the closest people, but many have already guessed it. This is the greatest miracle in the world!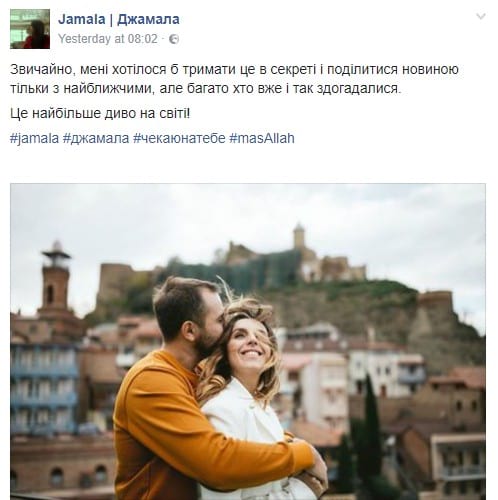 ESCToday congratulates Jamala and Bekir, and wishes them all health and happiness!
Jamala certainly has a reason to smile:
About Jamala
Jamala (born Susana Alimivna Jamaladinova, Osh, Kirghizia, 1983) is a Ukrainian singer-songwriter and actress of Crimean Tatar and Armenian descent. Her musical styles range from blues, jazz and soul to alternative music, electro pop and ethnic fusion.
Jamala represented Ukraine at the 2016 Eurovision Song Contest in Stockholm, Sweden, with the dark heartfelt song 1944. Progressing to the Grand Final, Jamala and 1944 ultimately won the contest, receiving 534 points.
Enjoy Jamala performing 1944 at the Grand Final of Eurovision 2016:
ESCToday is growing and always looks for new members to join our team! Feel free to drop us a line if you're interested! Use the
Contact Us page
or send us an email at
vacancies@esctoday.com
!