ESCToday in collaboration with CFC Consulting and UA: PBC will be bringing you a series of articles leading up to the 2017 Eurovision Song Contest in order to showcase and introduce the 2017 Eurovision host city Kyiv to our readers. Today we will have a look at Sanjay (Sergio) Jiandani's first impressions of the city after his research trip to Kyiv.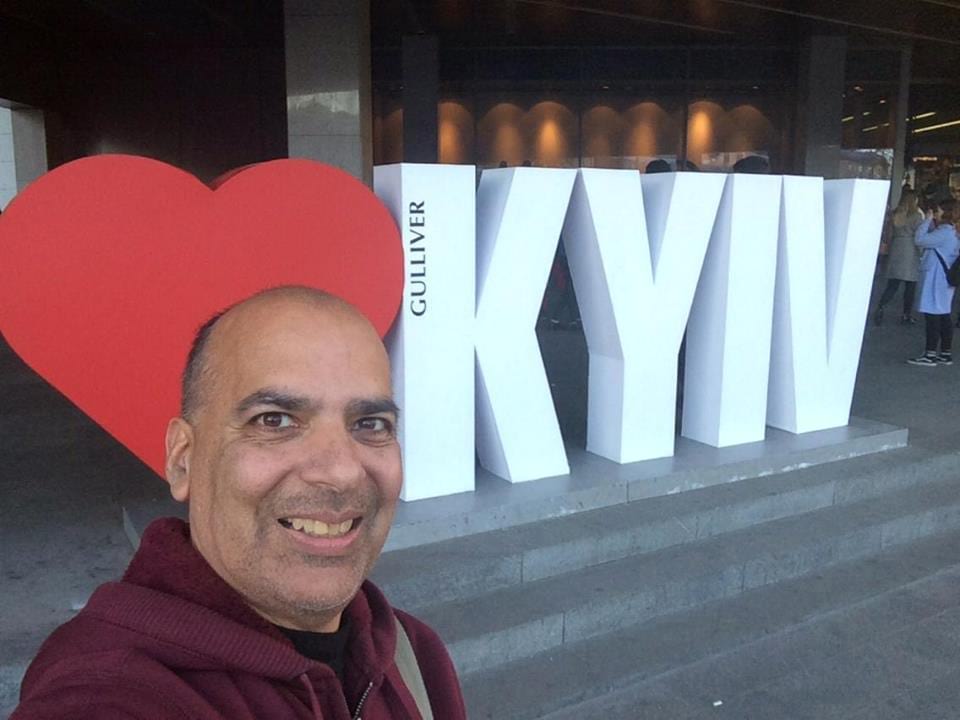 ESCToday's Head of International Relations and Communications Sanjay (Sergio) Jiandani travelled to Kyiv on a research trip in order to get a taste of the city and check out the preparations for the forthcoming Eurovision Song Contest. We bring you Sergio's story today.
Sergio's Story- First Impressions of the host city!
Coming to Kyiv for the very first time was like a dream come true for me. I have attended all the Eurovision Song Contests since 2000 with the exception of the 2005 Eurovision edition, which was held in Kyiv, as it coincided with my niece's christening. I had heard so much about Kyiv and Ukraine since I was a child, that visiting this beautiful country has always been on my wish list!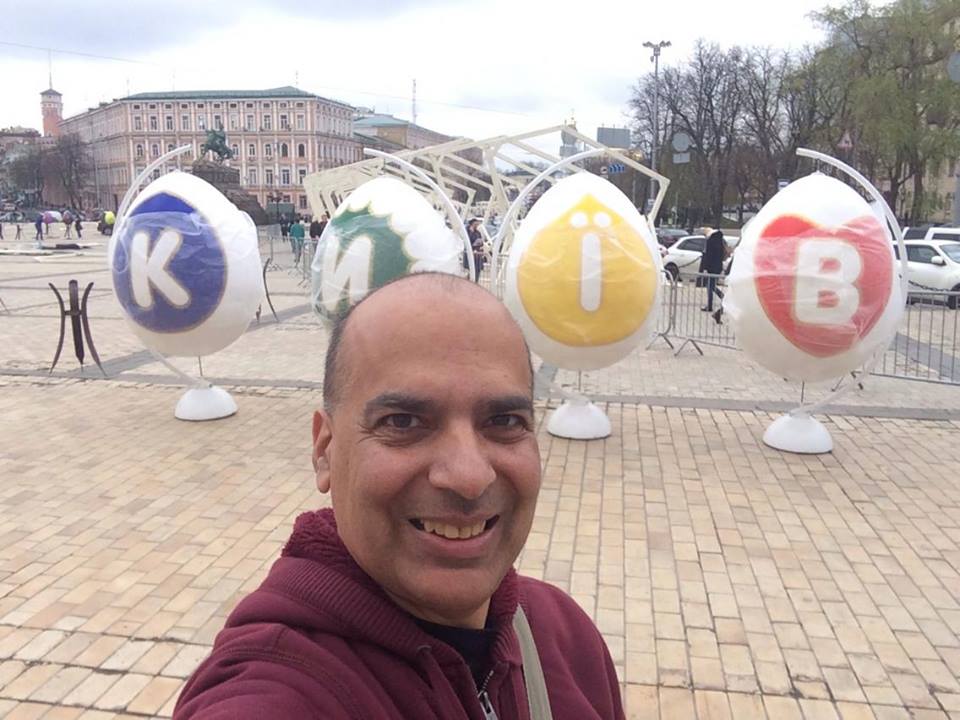 At the beginning of my research trip I didn't know what to expect in Ukraine as it was a totally new country and destination for me. I am really happy and honoured to have visited Kyiv before the Eurovision Song Contest. The whole experience has been quite impacting and has given me the chance to discover the true essence of Ukraine and its people.
I was very impressed with Boryspil airport when I landed in Kyiv; the Ukrainians are very kind and helpful. When you arrive you have to go through immigration and passport control, and there is a special area for EU and Ukrainian passport holders. You don't need to fill in forms or require visa if you are an EU citizen!
You feel really welcome when you arrive in Kyiv; the local people are very friendly and hospitable. Even though not everyone speaks English, they'll do their utmost best to make you feel at home! Most of the young Ukrainians speak English and are more than happy to show you around their city and country.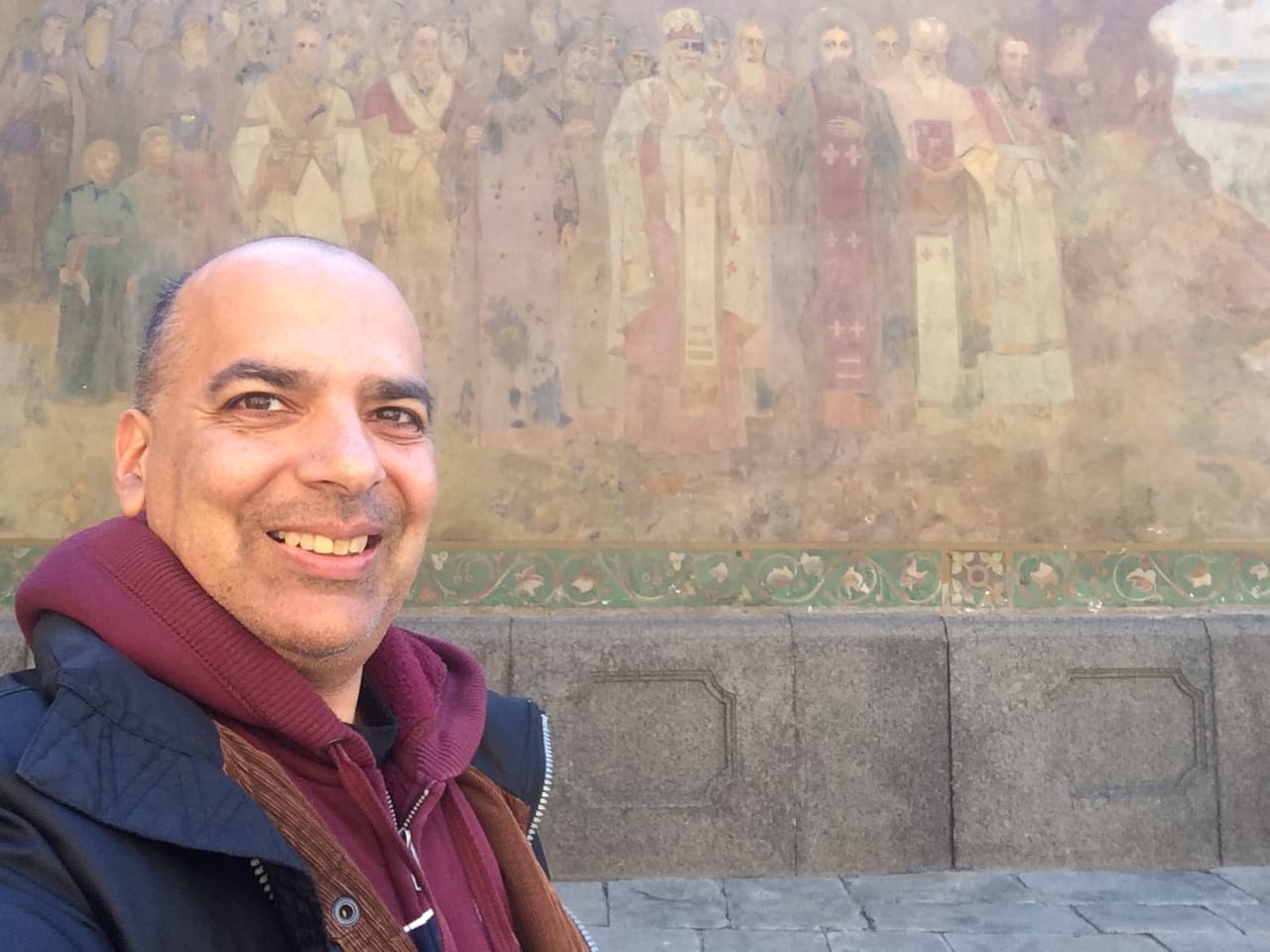 You will find that most Ukrainians are amiable, welcoming, generous, charming and loving. Kyiv is vibrant and impressive, modern and historic at the same time. The city has much to offer as there's lots to see and do here. I really enjoyed visiting the main sights of the city during my research trip.  It was an enriching experience to discover the beauty and treasures of Ukraine, along with its culture, history and heritage.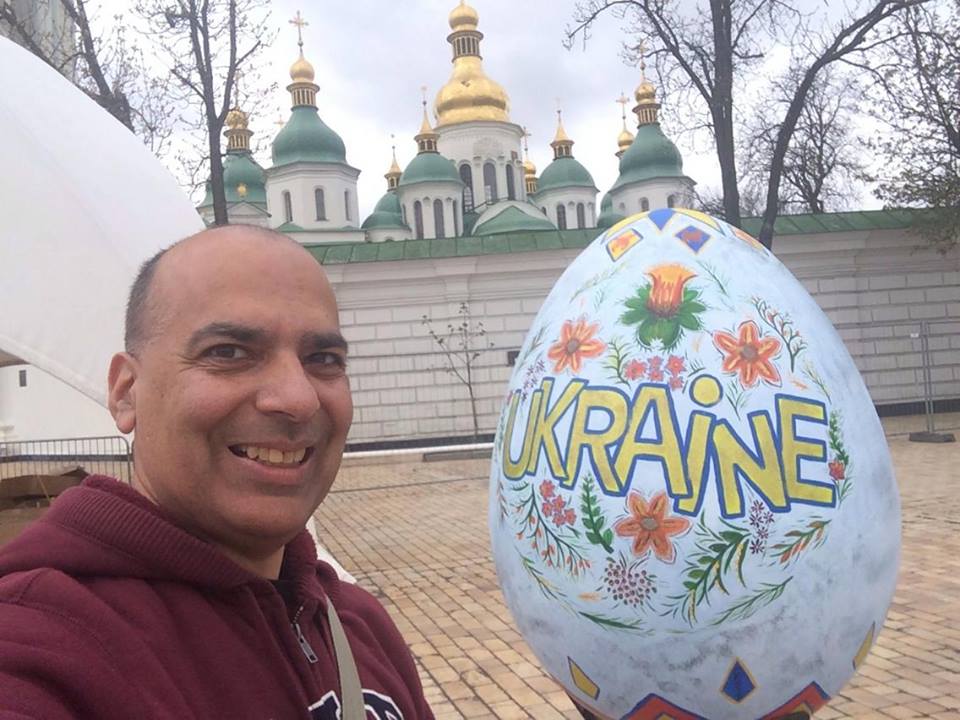 The city's skyline, landscapes, impressive monuments and architecture are a feast for your eyes, captivating you from the very first instant. Kyiv grows on you; the more you stay in the city, the more you fall in love with its unique character and nature.
Lots to do and see!
I got the chance to feel and live the hustle and bustle of Kyiv and experience the true ambiance of the city thanks to my guide Ms. Valeria Yudina who played a key role in showing me the sights and sounds of Kyiv and introducing me to the beauty of the majestic Ukrainian capital. Thank you Valeria!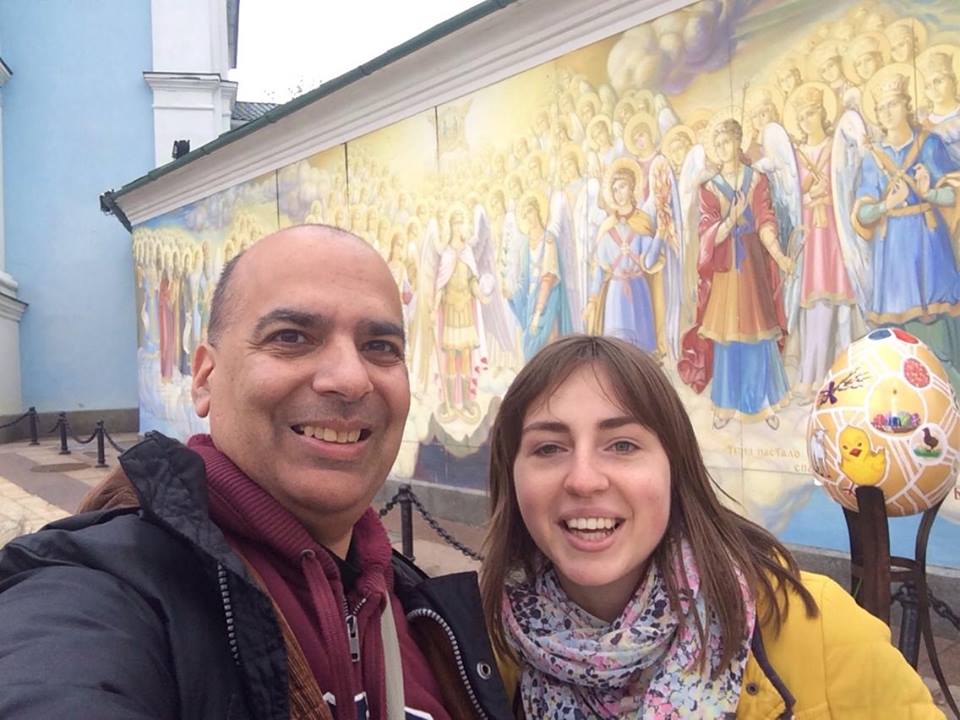 Remember to bring comfortable shoes as Kyiv is built on 7 hills, very much like Rome, and there's lots of walking to do if you wanna discover this amazing metropolis!
Kyiv is a green city and boasts of many green areas and lush parks, all of which come live in spring when the flowers bloom and the trees dominate the landscape.
I really enjoyed visiting Poshtova Square, Podil district, St. Andrew's Descent, Motherland statue, National Museum of World War 2, Chernobyl Museum, Sofiyska Square, Khreshchatyk Street, Independence Square (Maidan Nezalezhnosti), Golden Gate, Bohdan Khmelnytksky Monument, Volodymyr Velyky Monument, Kyiv National Opera House, Mariinsky Park, etc.
I highly recommend to take a ride on the funicular which connects the Podil district next to the river bank to St. Michael's Golden Domed Cathedral on top of the hill.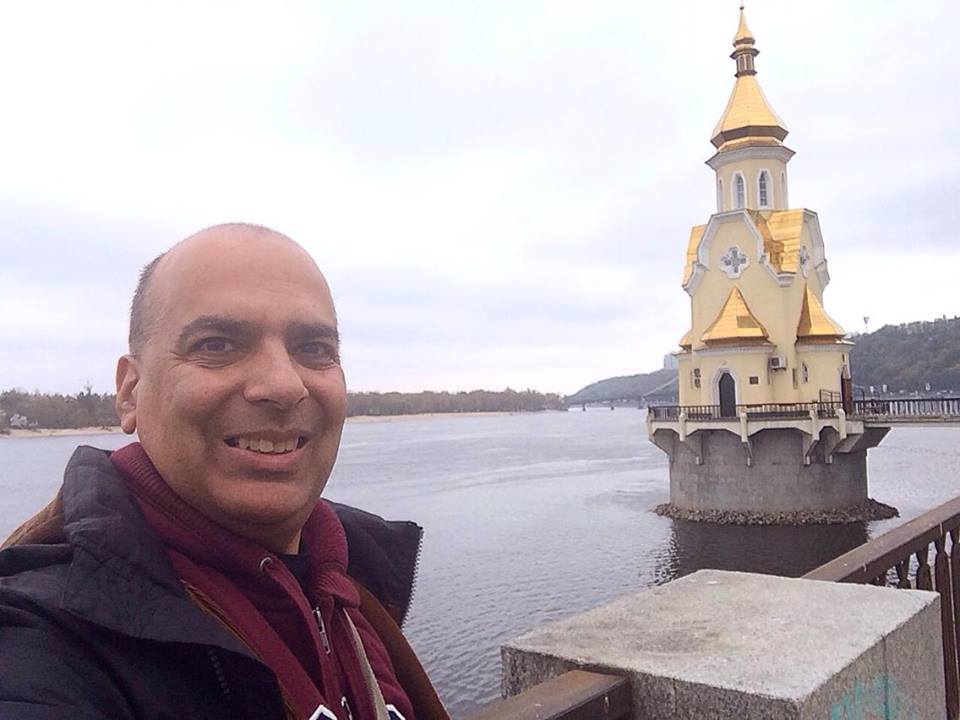 I got a chance to walk on the promenade on the banks of the beautiful Dnipro river; a boat ride is a must when you come to Kyiv for Eurovision next May.
Hidden treasures and gems to discover
Kyiv has many hidden gems and treasures in store for its visitors. I was truly mesmerised and overwhelmed by the city's grandeur and splendour. Kyiv's majestic churches and cathedrals dominate the city's skyline, thus showcasing the country's rich culture, history and heritage.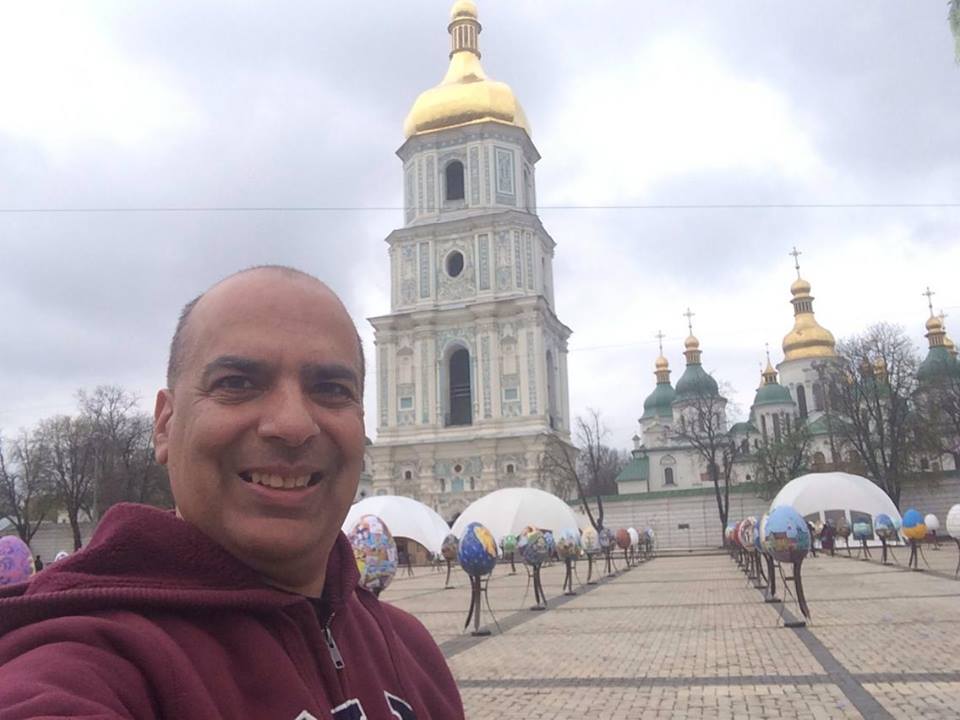 I have no words to describe my feelings when I visited the St. Sophia Cathedral and complex, Kyiv Pechersk Lavra (Caves monastery), St. Michael's Golden Domed Cathedral and Monastery and St. Andrew's Church and St. Volodymyr's  Cathedral.
The city dazzles with a myriad of majestic and sparkling churches and cathedrals looming over the city's skyline and thus adding a touch of splendour to the beautiful capital of Ukraine.
I got to visit the Kyiv Pechersk Lavra on Palm Sunday and witnessed the beautiful Orthodox Easter celebrations, and I must say it was one of most beautiful experiences of my life.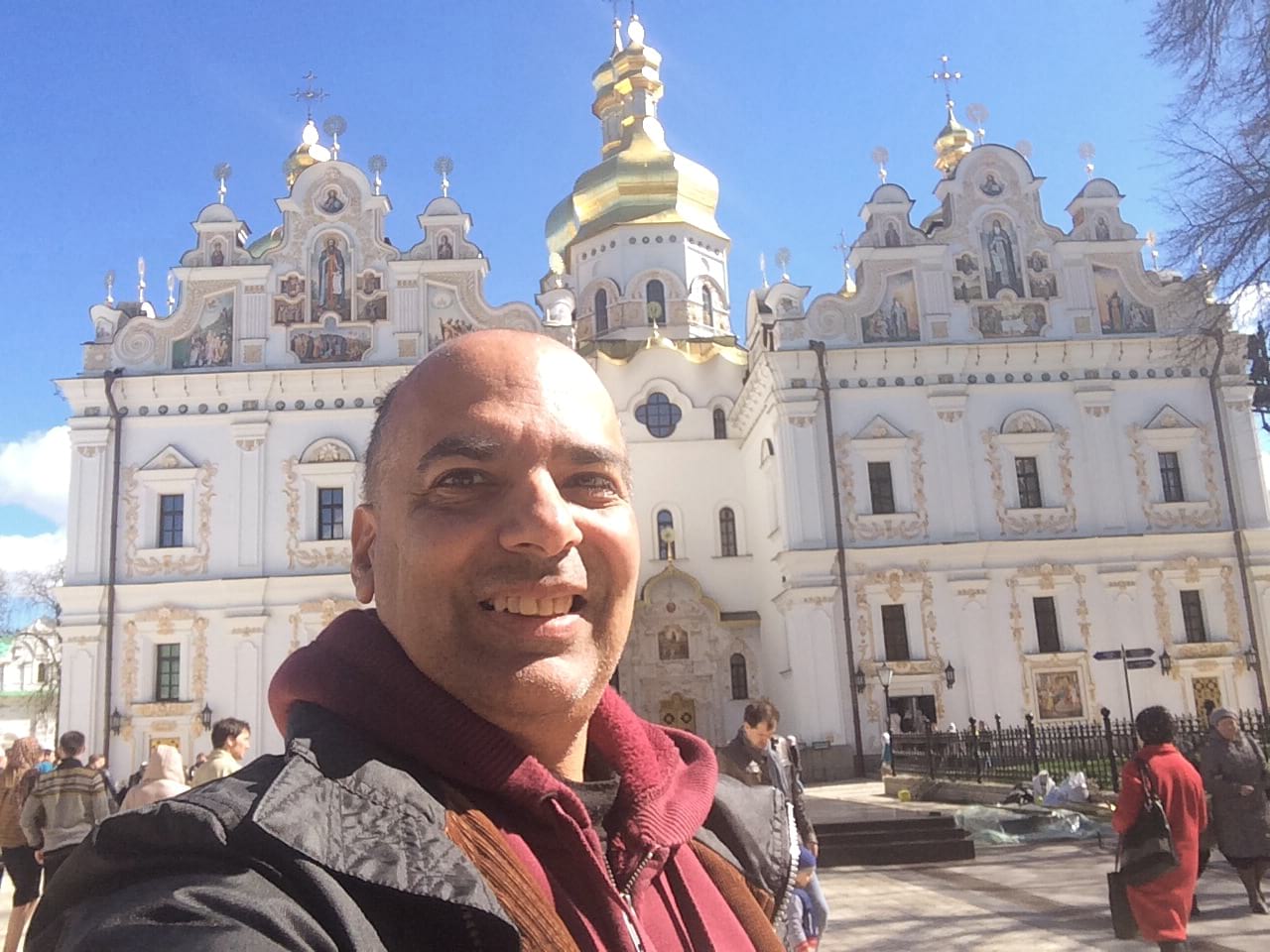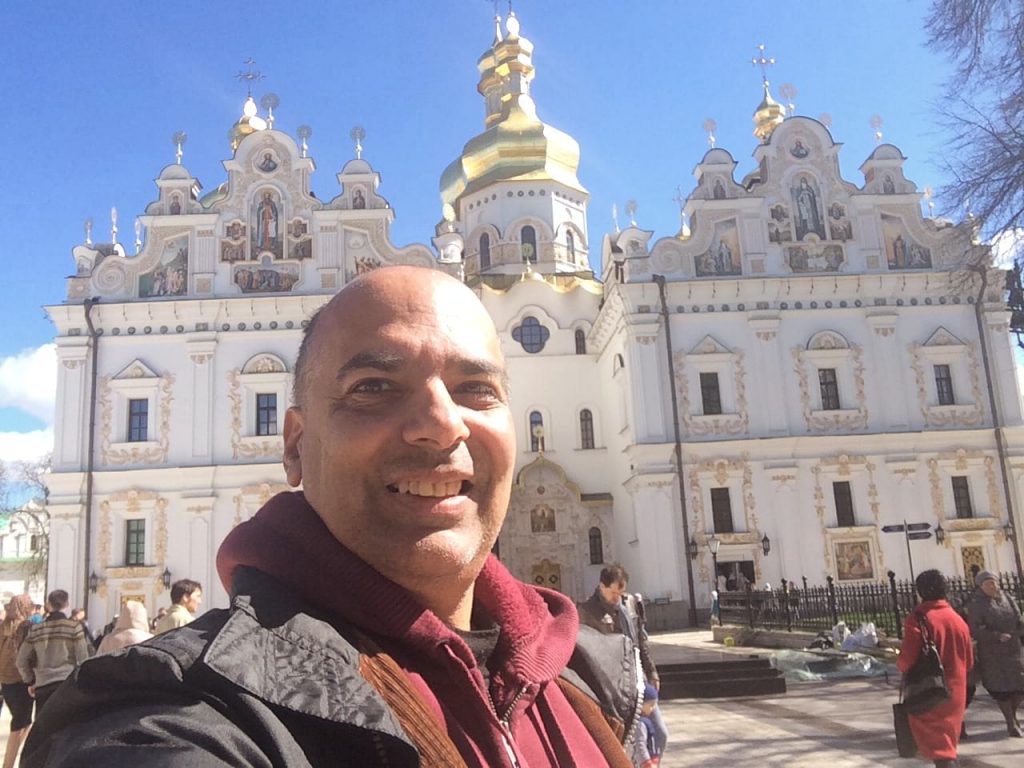 Kyiv has a lot to offer when it comes to history, as the city has a grand repertoire of historical and cultural heritage. If you love history, art and culture you are in for a treat.
Both the St. Sophia Cathedral and Kyiv Pechersk Lavra are listed as UNESCO World Heritage Sites and must not be missed when visiting this charming city.
Eurovision preparations in full swing!
Kyiv and Ukraine are working very hard in order to host the forthcoming 2017 Eurovision Song Contest and welcome the Eurovision razzmatazz next May. UA:PBC, the Ukrainian national broadcaster is working round the clock in order to showcase an extraordinary show when Eurovision comes to town.
I got the chance to visit the 2017 Eurovision venues and locations: the International Exhibition Centre (ESC 2017 venue), the CEC Parkovy (Euroclub), Khrestachyk Street (Eurovision Village) and Mariinsky Park (Red Carpet).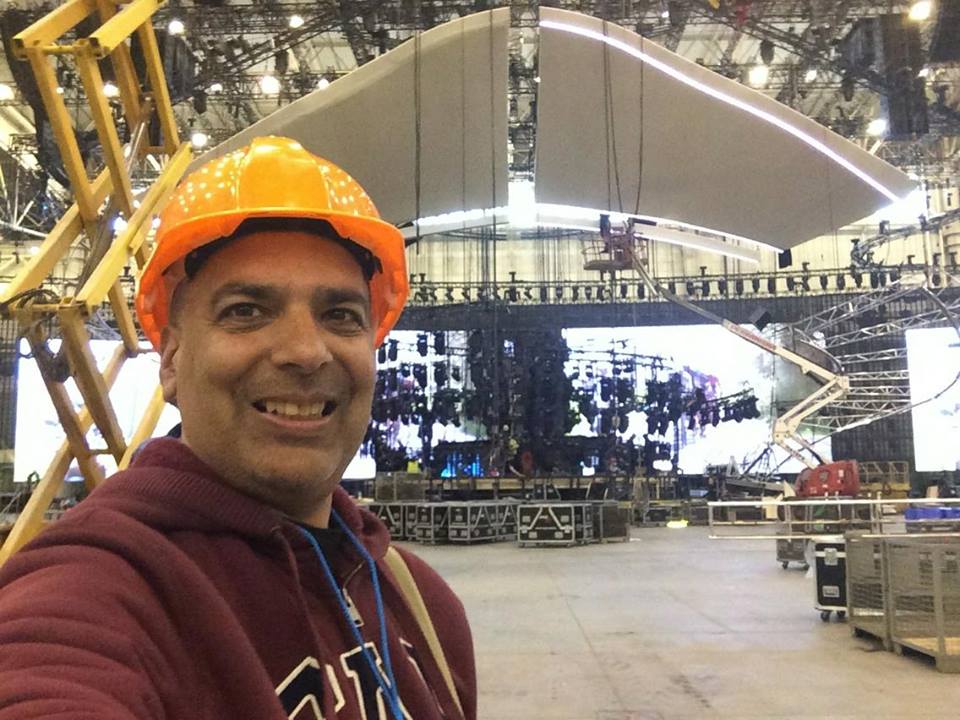 I was spellbound when I saw the stage and the ongoing work at the IEC in Kyiv; it's gonna be absolutely amazing! The Eurovision team and UA:PBC have been working endless hours, day and night in order have everything perfect. Don't worry; everything is running on schedule and boy are they working on it!
The International Exhibition Centre (the 2017 Eurovision venue) is a modern and new building located 10-15 minutes by Metro from the city centre. Everything will be housed under the same roof in Kyiv; the main ESC venue, the Delegation Area, Press Centre, the Accreditation Centre will all be located within close distance. So there won't be much walking to go to and fro, it will be quite comfy!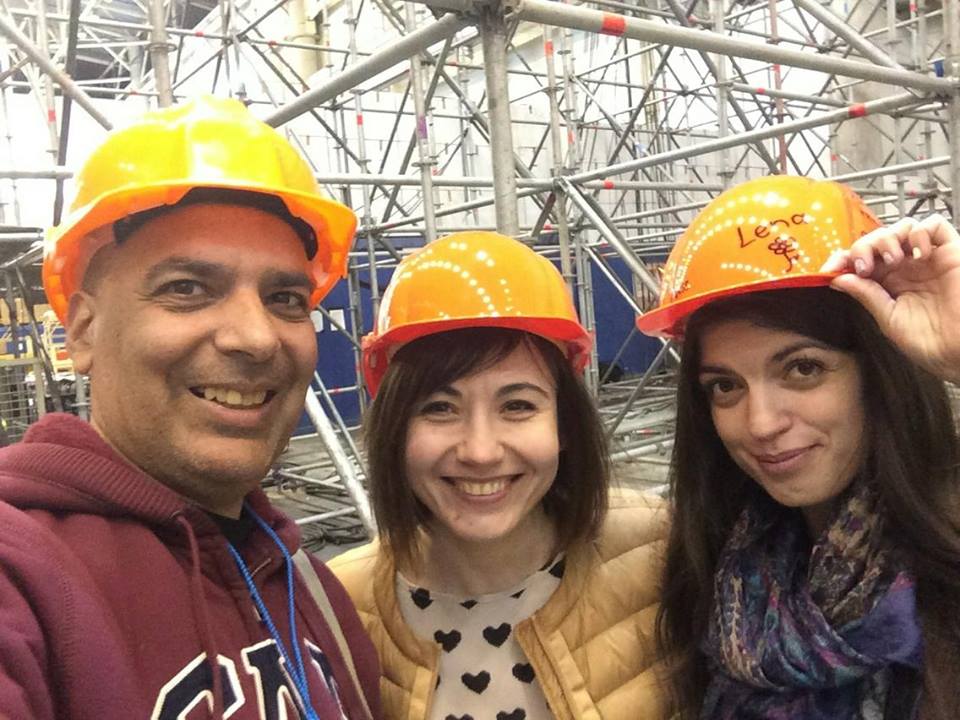 There is a massive supermarket next to the venue, so you can hop over if you wanna eat or drink something. There are also restaurants in the vicinity.
The 2017 Euroclub is housed at the CEC Parkovy, a very modern state of the art building and will have several halls. It's gonna be really impressive (2 halls, an open air terrace, a press centre, etc). I was overwhelmed with its salons, halls and facilities. Modern infrastructure and the premises are massive!! We are gonna party hardy here! The Euroclub is a 10 minutes ride from downtown Kyiv.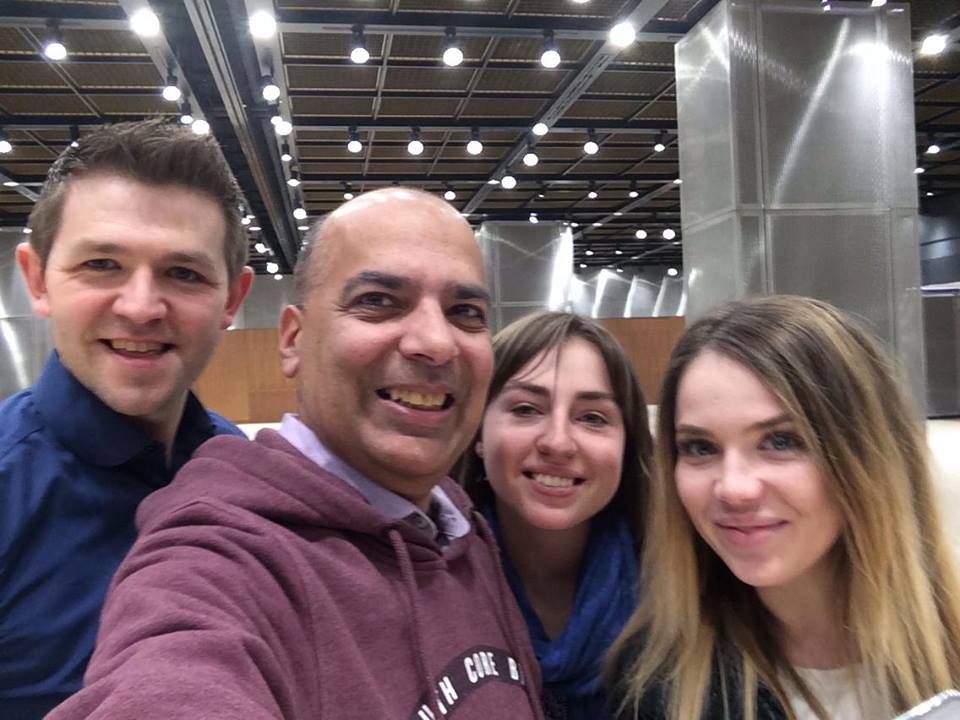 The Euro Fan Cafe will also be housed at the CEC Parkovy, namely on its ground floor. You can access the Eurofan Cafe without an accreditation!
The Red Carpet will be placed just outside the Mariyinsky Palace and will be longest ever in Eurovision history. The Red Carpet will be nestled between the Mariyinsky Palace and Mariyinsky Park. A regal location indeed!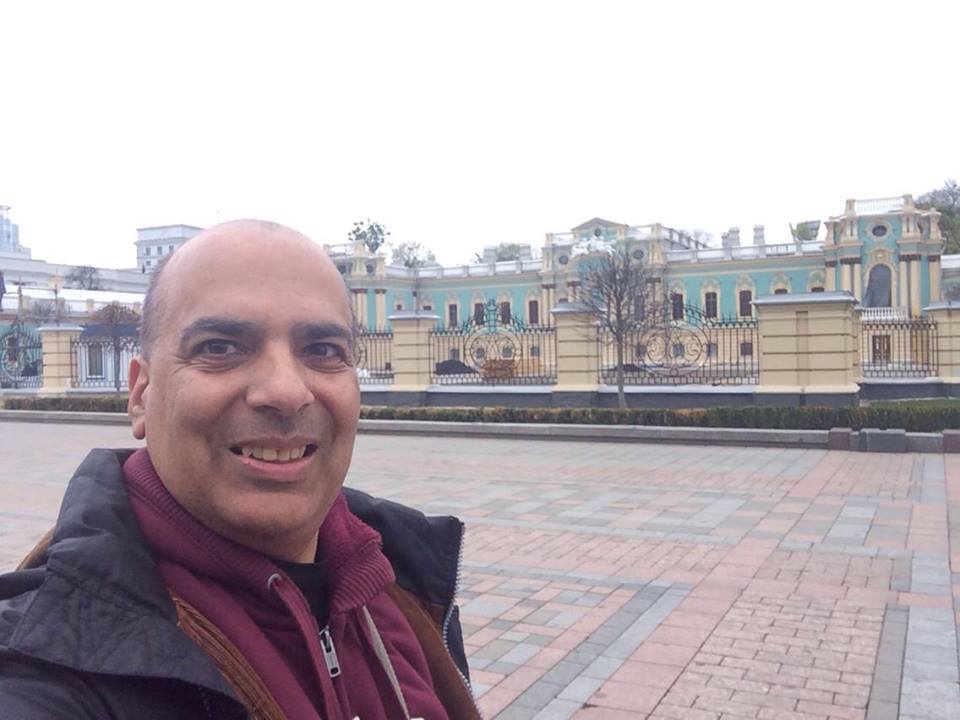 The Eurovision Village will be located in one of my favourite places in Kyiv, namely at the Khreshchatyk Street and will be occupy most of this majestic street. If I am not mistaken it will be one of the biggest Eurovision Villages ever!
I only have two words to describe the 2017 Eurovision organization and locations; impressive and mind-blowing!
Meeting the Key people in Eurovision 2017
To top things up I had the grand honour of meeting some of the key people involved in this year's Eurovision Song Contest:
Mr. Ola Mezig (ESC 2017 Head of Production), Mr. Anton Taranenko (Head of Tourism – Kyiv City State Administration), Ms. Victoria Sydorenko (Head of International PR – ESC 2017/UA:PBC), Mr. Pavlo Grystak (Executive Producer ESC 2017/UA:PBC), Mr. Kirill Voronin (ESC 2017 Events Manager), Mr. Ali Guseynovitch (Head of Security Service),  Ms. Yulya Golovlyova (Head of Communications Eurovision 2017/UA: PBC)., Ms. Lena Gamulia (Head of Press Centre ESC 2017/UA:PBC), Ms. Vladyslava  Yancheenko (Euroclub External Communications Manager), Ms. Lily Yamborak (UA:PBC) Mr Aleksandr Niyaka (Euroclub Manager) Mr. Oleksandr Skichko, Mr. Volodymyr Ostapchuk, and Mr. Timur Miroshnychenko (ESC 2017 Hosts).
Ukrainian culture and hospitality
I think people will be pleasantly surprised next May when they visit Kyiv for Eurovision; they will go back home with beautiful memories of their experience.
Ukrainians will go out of their way to make you feel welcome and comfortable in their country. I met a lot of young Ukrainians who were very enthusiastic to show me their city, country and enlighten me about their culture and traditions.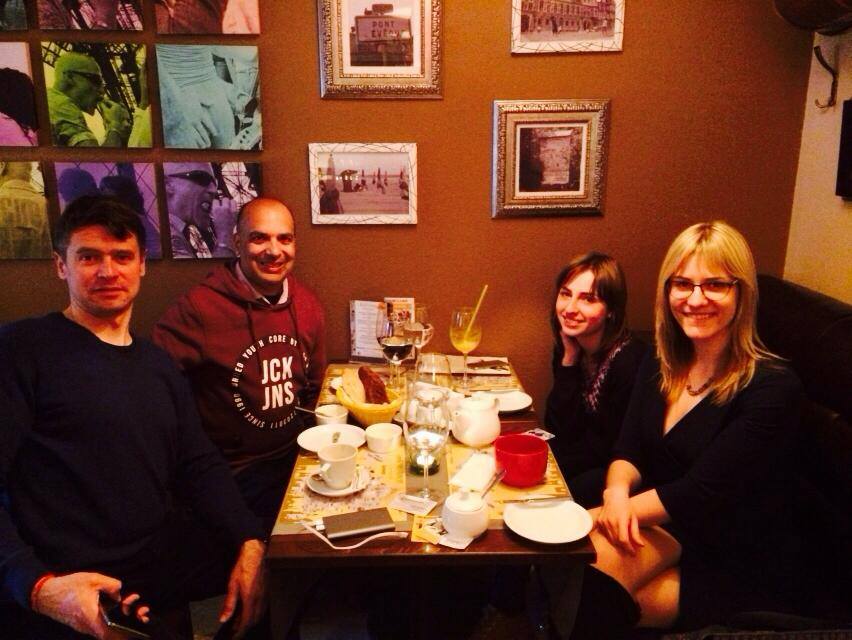 Amazing food, great restaurants and cafes
Boy was the food delicious in Kyiv! There are lots of great restaurants and cafes in the city and everything I tasted was so yummy and mouthwatering! Believe me, prices in Kyiv are very cheap in comparison to a lot of European countries. Restaurants and cafes are very affordable!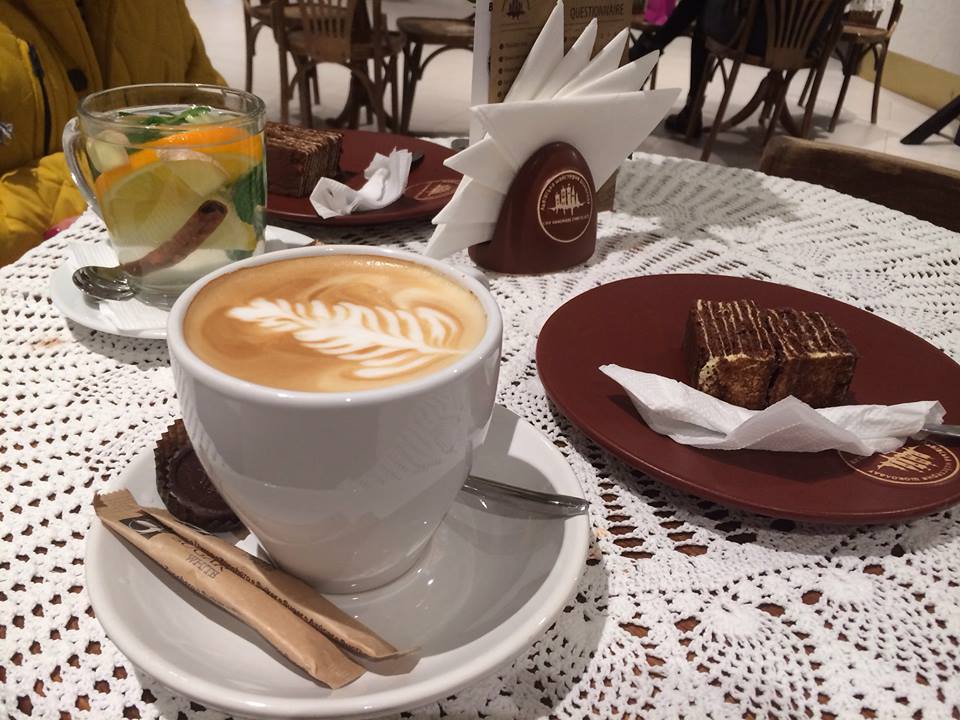 Cheap and affordable City
You need not worry if you are on a budget as Kyiv is one of the cheapest cities in Europe and its quite cheap to eat out. I guess Kyiv will be one of the cheapest Eurovision host cities in the past 5 years!
Easy Transport
Commuting around the city is quite cheap, affordable and easy! You will not end up spending all your pennies on transport. Getting around the city is quite easy with the Kyiv Metro, which is also one of the cheapest options. Bare in mind the subway is very crowded! A ride on the Metro is just 4 UAH (14 cents).
You can also get around the city with Uber, local taxis, trams and buses! Taxis and Uber are very cheap so if you don't like crowded places then I'd opt for one of them.
During the Eurovision period there will be a shuttle bus service running from the Eurovision venue, Euroclub, official hotels for the accredited press and media.
All in all it was quite an experience!
My research trip to Kyiv has been an unforgettable experience which I will cherish for the rest of my life. Kyiv is a city that you would like to go back and visit even after Eurovision, to experience its vibe, coffee culture and mix and mingle with its inhabitants.

If you haven't decided yet and are still wondering about coming to Kyiv, then hurry up as both the 2017 Eurovision host city and Ukraine are all set to welcome you next May! The city of Kyiv is ready to embrace the Eurovision Song Contest and Celebrate Diversity!
Come to Kyiv, you will love it!
You can follow our forthcoming series of Discover Kyiv articles with photographs and videos on ESCToday.com and on our official Esctoday Instagram and ESCToday Facebook pages.
ESCToday is growing and always looks for new members to join our team! Feel free to drop us a line if you're interested! Use the
Contact Us page
or send us an email at
[email protected]
!