Thunder and lightning it's getting exciting down under as the Aussie Eurovision fans are all set to embrace the Eurovision Song Contest when they set sail on a special cruise in Melbourne. ESCFan, OGAE Australia and Joy 94.9 present you the 2017 Eurovision Preview Party Cruise on Saturday 8 April.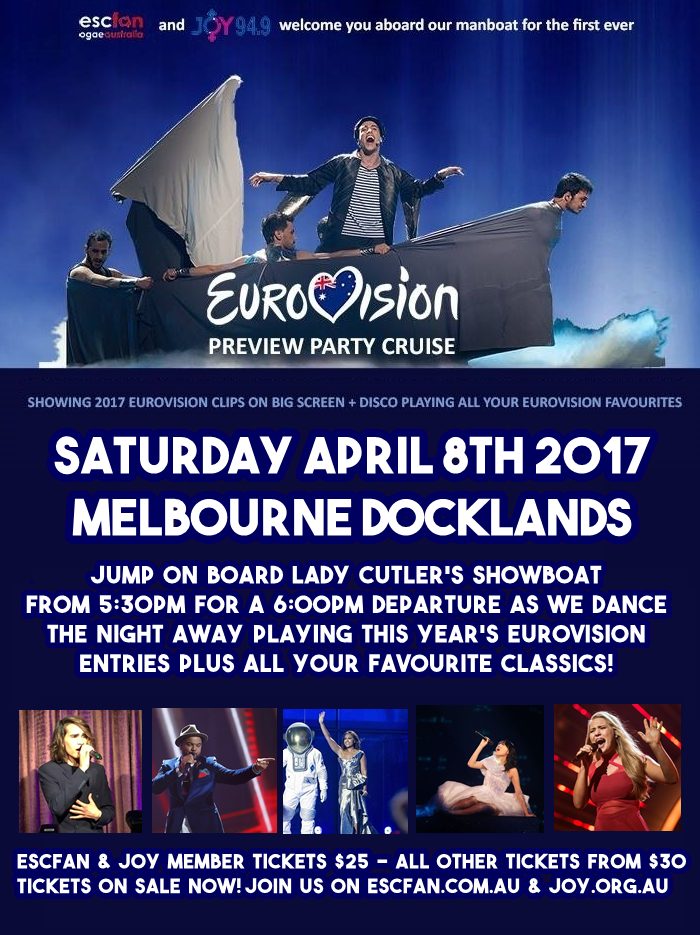 Australia and the Eurovision Song Contest are connected since many years, as the contest has been aired down under for more than 30 years. The country joined the Eurovision family in 2015 and this year will mark its 3rd Eurovision participation. When it comes to Eurovision the country goes way back in history. We must not forget that Aussie's have competed in the contest since many years: Olivia Newton John (1974), Gina G (1996) etc.
You can join the first ever Australian Eurovision cruise on Saturday 8 April in Melbourne if you happen to be in Australia. The event is organized  by ESCFAN (the Australian Eurovision Fanclub) and JOY 94.9.
Come and sail The Lady Cutler in celebration of the upcoming 2017 Eurovision Song Contest held this year in Ukraine, with a preview of the competing artists and songs, and a chance to vote for your favourite entry!
With 43 competing nations, this will be the year when Australia will aim to show Europe that last year's 2nd place was not due to Beginner's Luck, but that the Aussies really do belong in the contest. This year's representative Isaiah Firebrace, winner of X Factor Australia 2016, will sing Don't Come Easy. At only 17 years of age, Isaiah has some big (and sparkly) shoes to fill after Dami Im's stellar performance last year in Sweden.
Date: Saturday 8 April
Place: Melbourne Docklands
City: Melbourne, Australia
Ship: The Lady Cutler
Boarding Time: 17.30
Departure Time: 18:00
As you leave the Melbourne Docklands for the Aussie ESC sunset celebrations, you can view all the competing 2017 filmclips on big TV screens, as well as dance the night away at our disco playing all the best Eurovision classics.
Drinks and food will be available on board for you to purchase, and prizes will be awarded on the night. So, dress up as your favorite act and put on your dancing shoes.
Boarding starts at 5.30pm, with the boat leaving promptly at 6pm. Tickets can be puchased here.
About ESCFAN
ESCFAN (Eurovision Song Contest Fans of Australia Network) is an independent and official Eurovision club that represents Australia fan interests, as well as those who have links to Australia and/or appreciation of Australias' role at Eurovision. ESCFan is now also OGAE Australia. You can become a ESCFAN member or read more about the club here.
ESCToday is growing and always looks for new members to join our team! Feel free to drop us a line if you're interested! Use the
Contact Us page
or send us an email at
[email protected]
!